Macron claims he convinced Trump to stay in Syria 'for the long term'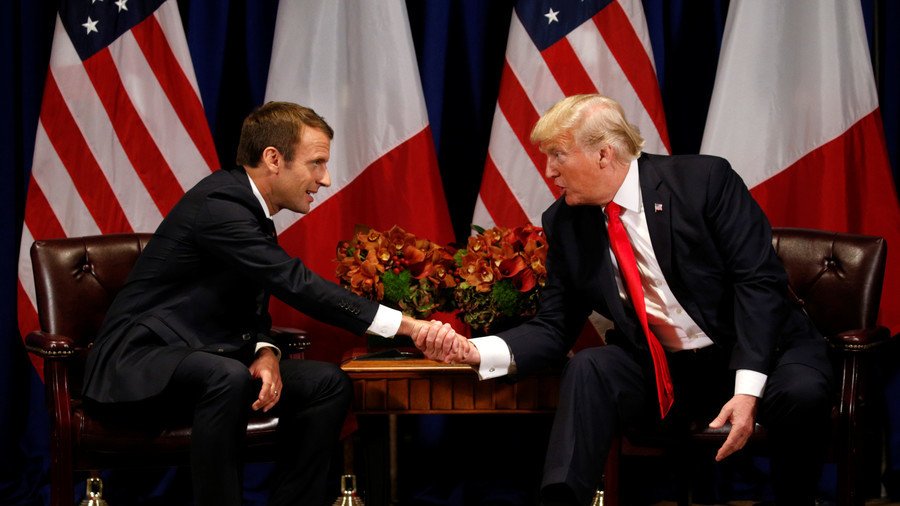 French President Emmanuel Macron has said he convinced his US counterpart that it was "necessary" to keep American troops in Syria. The White House has since reiterated that the troops will go home "as quickly as possible."
In a lengthy interview with French media on Sunday, Macron said he was the reason that US President Donald Trump reportedly decided that he no longer wants to pull out the troops out of Syria and outsource the issue to the US' allies.
"Ten days ago, President Trump was saying the United States of America had a duty to disengage from Syria. I assure you, we have convinced him that it is necessary to stay for the long-term," Macron told to BFMTV during a two-hour long interview.
Macron's influence, apparently, extended not only to US troop deployment, but also the choice of targets in the recent strike against Syria.
"The second thing is that we have also convinced him that he must limit his strikes to chemical weapons, at a time when there was a media furore via tweet," he said, referring to Trump taunting Moscow with a tweet about his "nice, new and 'smart'" missiles.
France joined the US and the UK in carrying out a massive missile strike on Syria on Saturday, which the trio claims crippled Damascus' chemical weapons infrastructure. Over 100 cruise and air-to-surface missiles were launched during the attack, which was denounced by Damascus as "barbaric" aggression.
On April 3, Trump said that he wanted to pull US forces out of Syria as soon as possible, stating that the "primary mission" of the US in Syria, which is to defeat the Islamic State (IS, formerly ISIS, ISIL), was "almost completed."
"I want to get out, I want to bring the troops back home, I want to start rebuilding our nation," he said, without, however, specifying a timeline.
Trump had signaled a withdrawal before that, saying that the 2,000 US troops would leave Syria "very soon."
"Let the other people take care of it now," he said in late March, stressing the need to refocus the attention on the "crumbling" US infrastructure and border security.
That pledge stands, White House press spokesperson Sarah Huckabee Sanders said on Sunday, but the mission objectives must be achieved first.
"The U.S. mission has not changed – the President has been clear that he wants U.S. forces to come home as quickly as possible," Huckabee Sanders said in a statement to the media after Macron boasted about influencing Trump to keep troops in Syria. She didn't say that it would actually be soon, though, and all goals voiced by US officials – defeating ISIS, monitoring Iran and ensuring no more "chemical attacks" – leave room for a prolonged involvement.
In what could be a dig at Macron himself, she said that Washington expects its allies to shoulder more of the burden in the region, "both militarily and financially."
You can share this story on social media: