'Saddam's weapons': Ex-ambassador's Freudian slip on Syria attack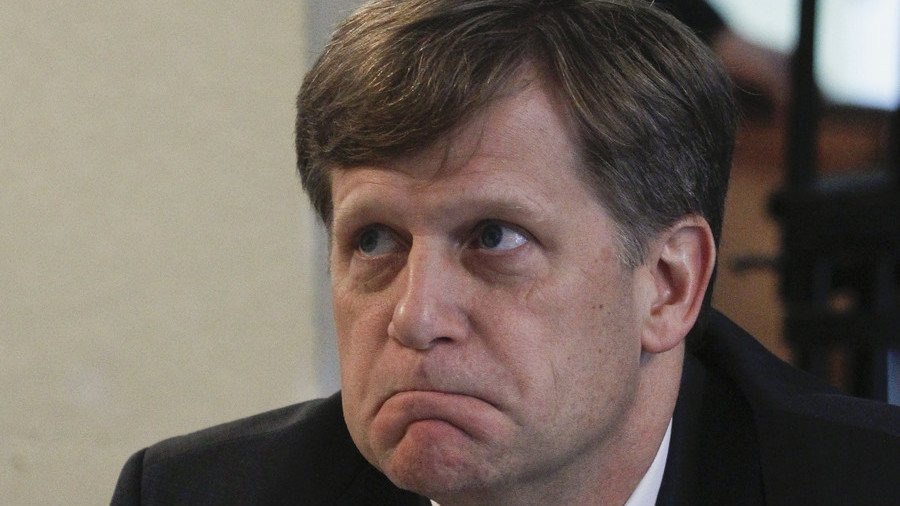 The US, British and French bombing of Syria has put many critics of US President Donald Trump in the awkward position of agreeing with him. One of them, former US ambassador to Russia Michael McFaul, slipped on his own tweet.
UPDATE: Mr. McFaul has now apologized for his typo in several further tweets and clarified that he, indeed, meant to say 'Assad' instead of 'Saddam.'
Attempting to explain why he agreed with the bombing on Twitter, McFaul made a point about appreciating the "most amazing" former President Barack Obama and voting for Senator Tim Kaine (and therefore Hillary Clinton) in 2016. So while McFaul thinks Trump has no strategy for Syria, he also approves of the "decision to degrade Saddam's chemical weapons last night." Oops.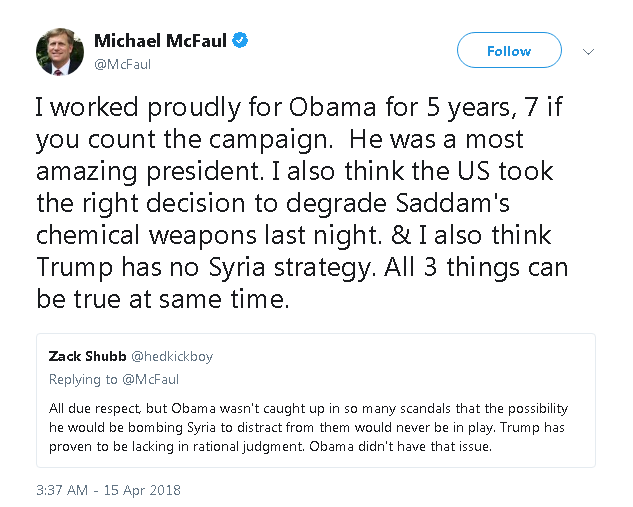 As a reminder, the mythical hunt for Saddam Hussein's weapons of mass destruction was used by the administration of George W. Bush to launch the invasion of Iraq in 2003, also without UN authorization and in clear violation of international law. The entire administration professed absolute certainty in US intelligence claiming the existence of Iraqi chemical and nuclear weapons programs, with most mainstream media accepting the claims at face value.
No such weapons were ever found.
McFaul served as the US ambassador to Moscow between 2012 and 2014, at a time when US-Russian relations took a significant turn for the worse. He now teaches at Stanford University in California, and he is very active on Twitter.
His tweets and Facebook postings have attracted RT's attention on a couple of occasions, so the former ambassador even added a precautionary "calm down RT!" when he made a mistake about a detail of recent anti-Russia sanctions.
Here's another gross slip-up we will (not) be calling out Ambassador McFaul over:
While we realize that the "Saddam" part was (hopefully) only a typo, we could not just walk by that one. It's not just tone-deaf, but an almost Freudian slip, given the scary overlap in the tone of US, UK and French authorities trumpeting a "high confidence" in intelligence, while offering no proof, before launching missiles against Syria.
In sharp contrast, France – along with Germany – took a more measured stance back in 2003 when it opposed the Bush administration's plans to invade Iraq. Then-French Foreign Minister Dominique de Villepin received loud applause for his speech against the Iraq War at the UN on February 14, 2003.
"The option of war might seem a priori to be the swiftest, but let us not forget that having won the war, peace has to be built," he said, adding that his message comes from the continent Europe "that has known war, occupation, barbarity."
Perhaps McFaul is sublimating the sentiments of the American establishment, who would like to see Syria's Bashar Assad hanged the same way Hussein was executed in 2006? Maybe that is reading too much into a typo, though one can never know.
In an earlier exchange with someone, McFaul did make a very good point, however.
"I'm tired of our polarized discussion about national security issues. Fine to disagree, but on principle, not partisanship," he wrote.
It's a pity that bipartisanship in the US is usually reserved only for illegal foreign wars.
Like this story? Share it with a friend!
You can share this story on social media: