'Stop Soros': Hungary's plan to curb pro-immigration NGOs explained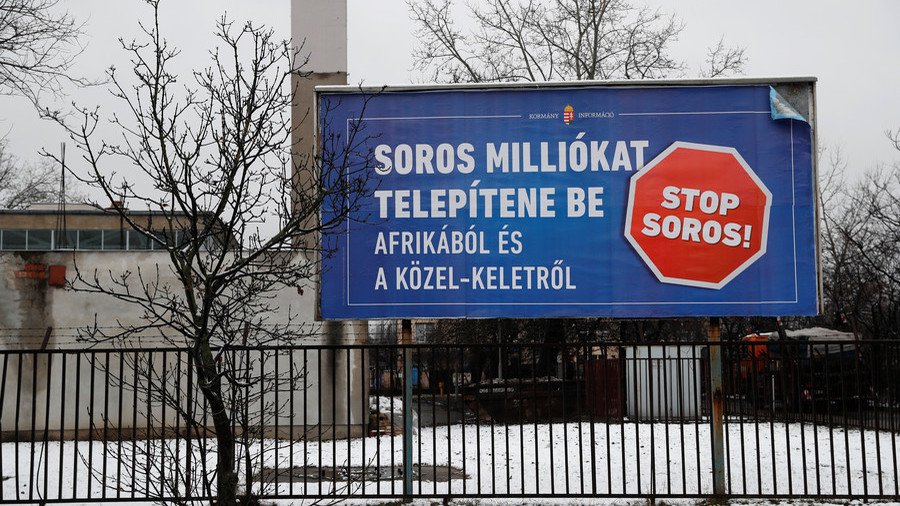 Following its election victory on Sunday, Hungary's Fidesz party is set to press ahead with a law to 'Stop Soros' and ban non-governmental organizations (NGOs) promoting immigration. Here's RT.com's primer on the proposal.
What does the bill propose?
The proposed 'Stop Soros Act' was submitted to parliament by Fidesz in February and comprises three parts. First, all NGOs which "support illegal immigration" need to be registered and must submit data on their activities.
READ MORE: Hungary PM Orban declares victory as ruling party projected to take 67% of parliament seats
Second, any NGO which receives money from abroad must pay the government 25 percent tax. Finally, foreign nationals and Hungarian activists who support illegal immigration may be subject to a restraining order which would keep them away from the border.
If passed, the act could prevent Soros from returning to his homeland. "If Soros is found to have engaged in such activity, meaning he organizes illegal immigration, then the rules will apply to him," government spokesman Zoltan Kovacs said when announcing the bill in February.
Why 'Stop Soros'?
Prime Minister Viktor Orban secured his third term in office on Monday, and the proposed law was a core element of his election campaign. US-Hungarian investor George Soros has long been accused by Orban of interfering in Hungarian affairs, particularly regarding immigration.
"Soros has antagonized not only us but also England, President Trump and Israel too… everywhere he wants to get migration accepted. It won't work. We are not alone and we will fight together... and we will succeed," Orban said in February.
Soros has made no secret of his financial support for promoting liberal values and advocating for open-border policies in Europe.
The Hungarian-American worked as a trader and analyst before establishing Soros Fund Management in 1970 after which he became one of the world's foremost investors, generating enormous wealth for himself and his clients. He famously made a fortune shorting Britain's pound sterling, which forced the currency's collapse in 1992.
The financier used his vast fortune to set-up the Open Society Foundations in 1984, which fund a range of global initiatives "to advance justice, education, public health, business development and independent media."
In 2015 Soros stated that the "EU has to accept at least a million asylum-seekers annually for the foreseeable future. And, to do that, it must share the burden fairly."
"Adequate financing is critical," the billionaire wrote. "The EU should provide £10,000 (€15,000) per asylum-seeker for each of the first two years to help cover housing, health care, and education costs – and to make accepting refugees more appealing to member states."
Soros 'meddling'
In February, Soros faced allegations of meddling in British politics when it emerged that he had donated £400,000 ($558,000) to the pro-EU lobby group 'Best for Britain.' The investor shrugged off the accusations and confirmed that he is a "proud supporter" of Best For Britain because he considers Brexit to be a "tragic mistake."
"Since Brexit is a lose-lose proposition, it follows that a parliamentary vote to stop Brexit would be its opposite," Sorors wrote. One week later, following what he described as a series of "toxic attacks" by Brexiteers, he donated a further £100,000 ($141,127) to the cause.
Following Orban's comprehensive election victory, a Fidesz party spokesman confirmed that the 'Stop Soros' bill could be passed as soon as May.
Think your friends would be interested? Share this story!
You can share this story on social media: