Tycoon George Soros transfers $18bn to his Open Society Foundations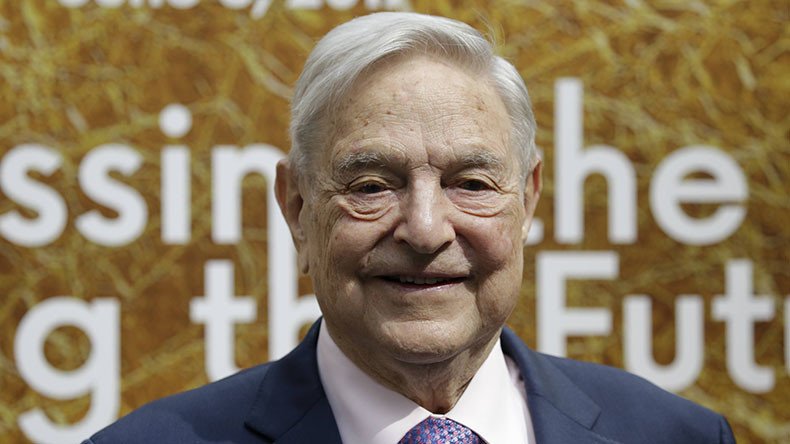 Billionaire investor George Soros has given away nearly $18 billion to his Open Society Foundations, transforming it into the "second largest" charity in the US after the Bill and Melinda Gates' Foundation.
On Tuesday, the 87-year-old tycoon moved the hefty sum from his personal funds into his non-profit group, the Wall Street Journal and Financial Times report. Soros, the 29th richest man in the world with a net worth of more than $25 billion according to Forbes, had reportedly been working on the transfer for several years.
The magnate intends to "leave the vast majority of his wealth to the Open Society Foundations," the chief of the group's strategic communications and public affairs, Laura Silber, said, as quoted by AFP.
The investment heavyweight set up the Open Society Foundations in 1984. It has since become the target of criticism among the billionaire's other projects.
The charity has been accused of inciting so-called color revolutions to install governments friendly to the US – from the Serbian 'Bulldozer Revolution' in 2000 to the Ukrainian uprising in 2013.
Soros' foundations are said to be the most influential around the globe, as "there is no part of the world that they have not been," according to Darren Walker, president of the Ford Foundation, as cited by the New York Times.
READ MORE: State Dept sued over funding Soros operations in Macedonia
The tycoon's activities have been repeatedly slammed by Hungarian Prime Minister Viktor Orban and other officials, who accuse him of weakening nation states, saying Soros-funded groups helped illegal migrants to enter Europe at the peak of the refugee crisis.
In 2015, Soros called on EU states to share the burden "to accept at least a million asylum seekers annually for the foreseeable future."
In July, Orban slammed the billionaire for using the EU to create a "new, mixed, Muslimized Europe" and called on European institutions to limit his influence.
Months later, WikiLeaks co-founder Julian Assange claimed that Soros, alongside the United States Agency for International Development (USAID), funded the mainstream media's narrative of the Panama Papers scandal to trigger a negative propaganda campaign against Russia.
The whistleblower claimed that the scandal pushed a negative angle against Russian President Vladimir Putin, instead of focusing on the many Western figures exposed in the documents.
Some of the organizations in Soros' charity network, including the Open Society Foundations and Open Society Institute Assistance Foundation, are outlawed in Russia as "a threat to the basics of the constitutional system… and security."
You can share this story on social media: