'Christian duty to fight Satan's Soros plan to bring migrants into Europe' – Hungarian MP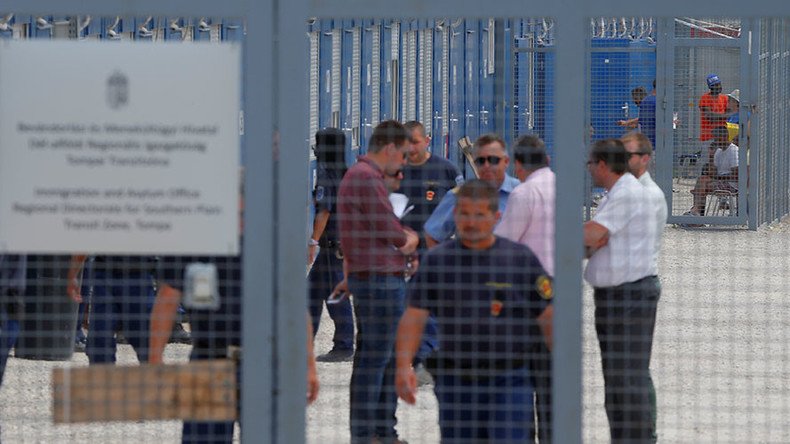 A Hungarian MP slammed billionaire George Soros and supporters for attempting to dilute the spirit of Europe with "the forced settlement of tens of millions of migrants." He claimed there is a Christian duty to fight what he called "Satan's Soros" plan.
The lawmaker in question, Andras Aradszki, who represents the Christian Democratic People's Party (KDNP), claimed that "Soros and his comrades want to destroy the independence and values of nation states," as cited by the Budapest Beacon.
According to Aradszki this is happening "for the purpose of watering down the Christian spirit of Europe with the forced settlement of tens of millions of migrants."
"But the fight against Satan is a Christian duty. Yes, I speak of an attack by Satan, who is also the angel of denial, because they are denying what they are preparing to do — even when it is completely obvious. They frantically try to prove that there is no [refugee] quota, there is no compulsory settlement, and the Soros Plan does not exist," Aradszki noted.
"The national consultation is an outstanding opportunity for us to make our opinions known about Satan's Soros Plan," he concluded. On Sunday, the Chief Security Advisor to the Prime Minister, Gyorgy Bakondi, warned of the implications of the "Soros Plan."
"This may have serious consequences for the sovereignty of member states, for the nations themselves, and also with regard to the security of European citizens," he pointed out.
Soros stated in 2015 that the "EU has to accept at least a million asylum-seekers annually for the foreseeable future. And, to do that, it must share the burden fairly."
"Adequate financing is critical," the billionaire wrote. "The EU should provide £10,000 (€15,000) per asylum-seeker for each of the first two years to help cover housing, health care, and education costs – and to make accepting refugees more appealing to member states."
Prime Minister Viktor Orban, who has repeatedly blamed Hungarian-born Soros of fueling the refugee crisis in Europe, said that "Brussels has come under George Soros's influence."
"We have revealed the existence of the Soros plan, and the drafter himself admitted that it exists. We have placed it in the focus of politics," the prime minister said in an interview to public radio on Friday.
In July, Orban accused Soros of using the EU in order to create a "new, mixed, Muslimized Europe," according to AP. The prime minister said that Soros is now more powerful in Brussels than in Washington or Tel Aviv and he argued that European institutions should fight to limit his influence.
He noted that reforming Europe can only begin by stopping illegal migration into the EU and that Hungary's border defenses will help with that effort.
Late last month Orban called on Hungarians to participate in the government's public survey on the "Soros plan," noting that it will help the country shield itself from migration. The survey dubbed "national consultation" will ask Hungarians for their view on whether or not Hungary should become an immigrant country.
"We want a Hungarian Hungary and a European Europe," Orban said on the first day of parliament's autumn session.
Last week Goran Buldioski, director of Soros' Open Society Initiatives in Europe, told AP that Soros and his foundations support "more coherent and humane policies for helping to resettle migrants fleeing oppression and violence in their homelands" but that "there is no such thing as a global conspiracy against Hungary."
Hungary is engaged in a bitter row with the EU over the refugee relocation quotas, together with Poland and Slovakia. The issue dates back to the EU decision made in 2015 to rehouse some 160,000 refugees from Greece and Italy over a period of two years, only around 27,700 of whom have been settled so far.
Hungary claimed in September that its fences on the borders with Croatia and Serbia had helped to cut the inflow of migrants by 99.7 percent since 2015. The small inland nation now has one quarter of the length of its borders protected by a fence. The Hungarian border fence has been repeatedly criticized by other European countries, as well as by EU politicians, but Budapest has resisted pressure to remove it.
You can share this story on social media: