George Soros and Viktor Orbán go to war in Budapest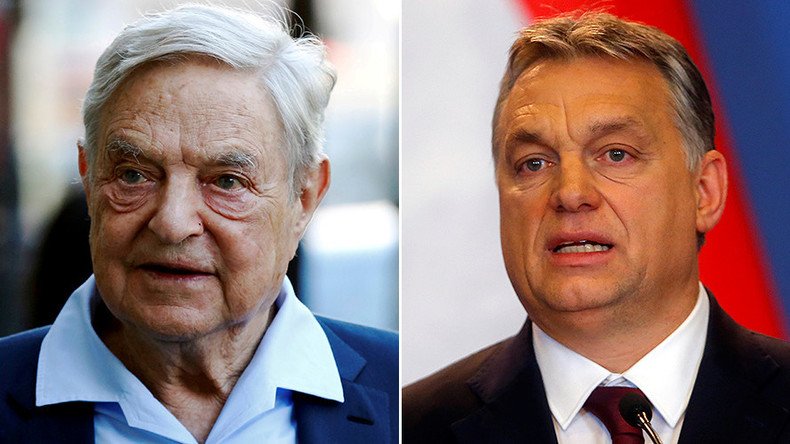 Hungary's pressure on George Soros' Budapest university is about more than the future of one school. It's part of an ideological battle which will dominate European and North American discourse in the coming years.
Whatever you might say about Viktor Orbán, he's a fast and decisive mover. Last Sunday, when thousands demonstrated in Budapest against his proposal to tighten regulation on foreign universities, marchers spoke of a lengthy campaign of resistance. Two days later, it was a done deal. Orbán had rushed the bill through parliament, displaying an efficiency Angela Merkel would admire, if she didn't distrust him for other reasons.
His target was Soros, Hungary's wealthiest son, who has become a hate figure for nationalists across Europe. And a man who divides a country. Many Hungarians admire Soros's philosophy and see him as a benefactor. However, more again see his influence as nefarious and reject his ethos of globalist Atlanticism.
For liberals, Hungary has been a huge disappointment. Because, back in the early 90's, it was considered the most westernized of the ex-Warsaw pact states. And only 20 years ago, the Socialist Party and the Alliance of Free Democrats held an overwhelming majority in parliament. Yet, with the country facing bankruptcy, they were forced to implement a hugely unpopular austerity package that allowed Orbán's Fidesz party to jump from 20 to 148 seats in the 1998 election. For the next decade, the two blocs fought a close battle until the latter took control in 2010, with the Socialists mortally wounded by accusations of rampant corruption, which even led to riots.
Changing his tune
Since then, Orbán used his huge 2010 majority to change the constitution and has proven himself something of a chameleon. For instance, he has simultaneously cultivated close relations with both Vladimir Putin and Poland's hyper-patriotic government. And although Russian companies have won significant contracts in the transportation and energy sectors, every time anti-Moscow sanctions have come before the European Union, Budapest has faithfully backed them.
Inside the EU, Hungary's attitude to migrants has often created outrage. For instance, when Angela Merkel was opening Germany's doors, Orbán was constructing a wall to keep the newcomers out. However, Fidesz, politically connected to Merkel's CDU movement through Brussels' European People's Party grouping, has paradoxically proven to be its most loyal supporter in European parliament votes. Fidesz MEPs vote "98 percent with us - even more than the Germans," an EPP official told Politico this week. This displays the genius of Orbán's double game.
Because while he's been busy dismantling liberal democracy in Hungary, EU grant aid has kept rolling in, averaging 2.4 percent of GDP from 2004-2014. And discontent in Brussels has been measured in murmurs, rather than roars. Even the Americans seem relatively quiet, meekly observing this week how Washington is "disappointed by the accelerated passage of legislation targeting (the) Central European University." At the same time, his government's overtures to Donald Trump, which it considers a like-minded potential ally, have been met with silence.
No Time Like Present
While everybody knows that Orbán's obvious desire is to clip Soros' wings, the actual legislation itself is slightly more vague. It forces foreign universities to close unless there's a bilateral agreement in place between Hungary and their "home" government and they have a campus abroad. In the case of the Central European University, the only option is to open a mothership in the US or head for the hills. As a result, other locations, in Austria, Romania and Lithuania, have been offering themselves as alternatives.
The CEU was founded in 1991 in Prague, before former President Vaclav Klaus booted it out a few years later. Back then its stated mission was to "educate a new corps of regional leaders to help usher in democratic transitions across the region." By the year 2000, it had moved onto "a special emphasis on democracy promotion and human rights." Among its alumni are Azeri dissidents Ilgar Mammadov and Rashadat Akhundov, Serbian pro-NATO activist Srđan Cvijić and current Georgian President Giorgi Margvelashvili. Thus, many local influencers fear Budapest has been hosting its own "colour revolution" factory.
Orbán and Soros have had their share of mutual grievances. Two years ago, the Prime Minister accused the billionaire of being responsible for the migrant crisis. "His name is perhaps the strongest example of those who support anything that weakens nation states, they support everything that changes the traditional European lifestyle," he told a radio station. "These activists who support immigrants inadvertently become part of this international human-smuggling network."
Soros shot back, saying he was trying to "uphold European values" while Orbán's actions "undermined those values."
In February of this year, the feud intensified. "Large-bodied predators are swimming here in the waters. This is the trans-border empire of George Soros, with tons of money and international heavy artillery," Orbán insisted. "It is causing trouble … that they are trying secretly and with foreign money to influence Hungarian politics,"
Tale of the Tape
Orbán's party is fully on board. Fidesz deputy chairman, Szilard Nemeth, said in December that Donald Trump's US election win was a game changer: "these organisations must be pushed back with all available tools, and I think they must be swept out. And now I believe the international conditions are right for this with the election."
As for the two heavy hitters themselves, while both are Hungarian, they couldn't be more different. Soros is a billionaire, whose $25 billion fortune is worth about 20 percent of his homeland's entire GDP. He was raised in an upper middle-class home in Budapest, his father a lawyer and his mother from a wealthy family of silk traders. At the age of 17, he left Hungary and migrated to Britain, where he studied at London's School of Economics. Ten years later, New York beckoned and, by his late 30s, Soros had founded his own fund management company.
By contrast, Orbán is a country boy. Hailing from the rural county of Fejer, where his father worked in agriculture, he studied law in Budapest. However, such was his dislike for city life that, upon graduation, he immediately relocated to a country town, Szolnok, and commuted into the capital for work. In 1989, he spent a few months at Oxford University, ironically on a Soros scholarship, but quickly returned to Hungary to enter politics.
Soros once said he hoped that his foundation would help Hungary become "a country from which I wouldn't want to emigrate." It seems, at the age of 86, his mission to fashion his homeland's politics to his own agenda has failed. That said, the majority of Hungarian voters appear to be supportive of Orbán's ambition to create an illiberal, nationalist state, within the European Union. And there's no doubting how the politician is winning the argument.
The statements, views and opinions expressed in this column are solely those of the author and do not necessarily represent those of RT.
You can share this story on social media: