Soros-funded university in Hungary facing closure following parliament vote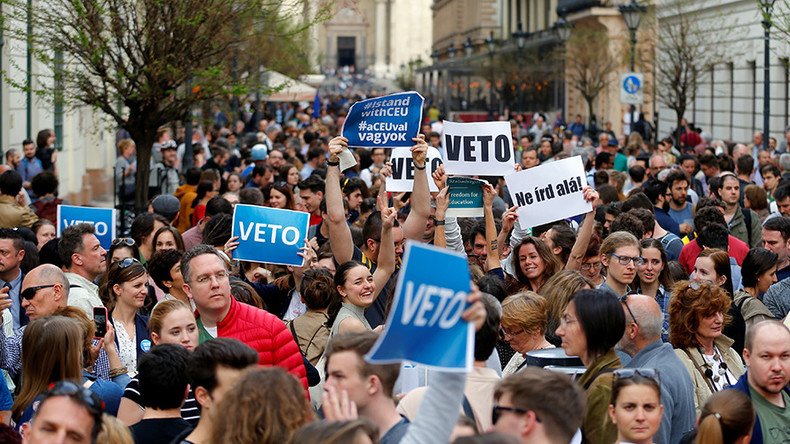 Hungary has approved a new law that could force a George Soros-financed university out of the country, despite widespread protests against the bill in Budapest.
The Central European University (CEU), founded by the US billionaire investor in 1991, is the only international college in the country with no overseas affiliate. The ruling Fidesz party's new higher education bill would require institutions funded by foreign investment to also host students at a home nation campus.
The bill also states that certain universities could be blocked from issuing foreign diplomas to Hungarian residents.
READ MORE: Crowds march to defend Soros funded university in Budapest (VIDEO, PHOTOS)
The government says the law is designed to address the administrative shortcomings of foreign universities, according to Reuters. Last week, Prime Minister Viktor Orban accused the CEU of violating regulations in awarding diplomas, which the college denies.
Following Tuesday's governmental vote, the university will no longer be permitted to enroll new students from January 1, 2018, unless CEU opens a new campus in the US or an agreement is reached between the United States government, the State of New York and Hungary's Orban government before the end of September.
The Vice Chairman of the Fidesz party, Szilard Nemeth, said in January that Soros and his NGOs ought to be "swept out" from Hungary because they are "pushing global big capital and a related political correctness" into the country.
READ MORE: Soros-funded NGOs should be 'swept out' of Hungary - deputy chief of ruling party
On Sunday, thousands of students and CEU supporters took to the streets of the capital to protest the proposed education legislation, marching from Budapest's Corvinus University to Central European University buildings on Nador Street in solidarity.
The university, which currently has 1,400 students enrolled, says the bill specifically targets their operating structure and "is therefore discriminatory."
"Any legislative change that would force CEU to cease operation in Budapest would damage Hungarian academic life and negatively impact the government of Hungary's relations with its neighbors, its EU partners and with the United States," said CEU president Michael Ignatieff.
Even if the matter is resolved within the next six months, the university's precarious future is essentially a "death sentence" when the college has to recruit skilled staff or students, reports the Hungarian Free Press.
Germany's newly-elected president, Frank-Walter Steinmeier, gave an impassioned speech on protecting the European Union's "precious legacy" while addressing MEPs in Strasbourg for the first time Tuesday, and referenced the university.
"And Europe must not be silent if civil society, even science, as it happened at the Central European University in Budapest, the air they breathe is taken away. Europe must not be silent," said Steinmeier.
You can share this story on social media: