Petition to declare George Soros a 'terrorist' & seize his assets gains required 100k signatures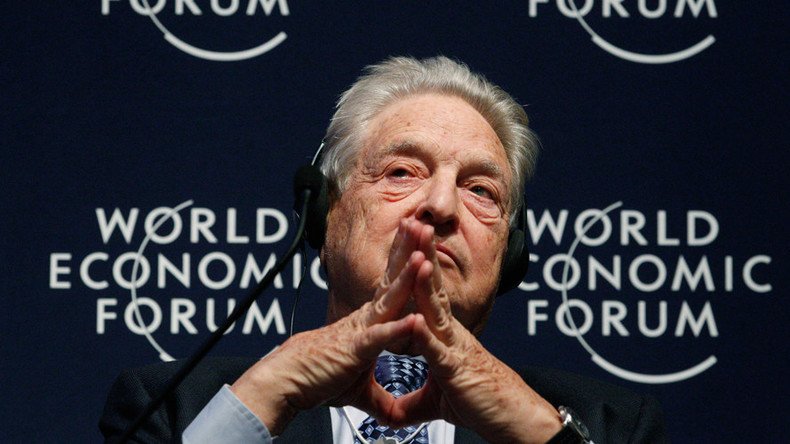 In less than a fortnight, more than 100,000 people have signed a petition accusing billionaire investor George Soros of sedition against the US, demanding that he and his affiliates be declared "domestic terrorists" and that his assets be seized.
The petition was initially launched on August 20 by "E.B." on the White House petitions website. Since it reached the threshold of 100,000 signatures before the September 19 deadline, the White House will now have to provide a formal response.
READ MORE: Soros 'mafia state' speech a declaration of war – Hungarian PM Orban
The creators of the petition on the website 'We the People' say that Soros has "willfully" tried to "destabilize and otherwise commit acts of sedition against the United States and its citizens." To achieve these goals, the author says, "Soros has created multiple organizations with a sole purpose is to apply Alinsky model terrorist tactics to destroy the US government."
The "Alinsky model" refers to American community organizer and writer Saul Alinsky. In his book 'Rules for Radicals,' he outlines 13 rules for political struggle to seize power.
The petition calls on the Department of Justice to "immediately declare George Soros and all of his organizations and staff members to be domestic terrorists, and have all of his personal an organizational wealth and assets seized under Civil Asset Forfeiture law."
Another recent high-profile petition, which has already exceeded the 100,000-signature threshold by three times, calls on US President Donald Trump to classify the Antifa activist group as a terrorist organization, accusing them of violence at demonstrations and incitement to kill police.
The White House, however, has left almost a dozen petitions unanswered since Donald Trump took office in February, and is considering shutting the service down.
George Soros is a Hungarian-American billionaire with a net worth of $25 billion and 33rd richest man in the world, according to Forbes. The 87-year-old investing heavyweight is behind many organizations and projects, some of which have been the target of criticism for years. His Open Society Foundation, along with USAID and the National Endowment for Democracy, have been accused of fomenting color revolutions to install governments friendly to the US – from Serbia in 2000 to Ukraine in 2014.
You can share this story on social media: