Petition to declare 'Antifa' group terrorists collects 250k signatures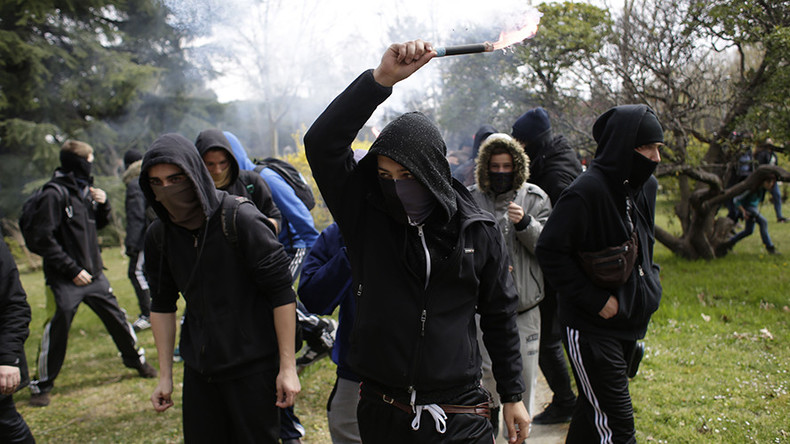 In less than a week, one quarter of a million Americans have signed a petition to have President Donald Trump officially classify the "Antifa" group a terrorist organization, accusing them of violence at demonstrations and incitement to kill police.
Using the petition website originally set up by the Obama administration, the petition calls for labeling Antifa terrorists due to the group's "violent actions in multiple cities and their influence in the killings of multiple police officers throughout the United States." It also compares Antifa to Islamic State (IS, formerly ISIS/ISIL).
The petition was launched Thursday amid threats by Antifa against speakers and attendees of the free speech rally in Boston, Massachusetts, which was scheduled for Saturday. The rally's libertarian organizers had been denounced as white supremacists and neo-Nazis - a charge they have emphatically denied.
In the end, Boston police kept some 40,000 protesters away from the small gathering of free speech activists. Though the majority of demonstrators were peaceful, at one point the police had to plead that individuals stop "throwing urine, bottles and other harmful projectiles" at their officers.
#BPD is asking individuals to refrain from throwing urine, bottles and other harmful projectiles at our officers.

— Boston Police Dept. (@bostonpolice) August 19, 2017
For their part, Boston Antifa activists made it clear that they weren't just objecting to the free speech rights of neo-Nazis, but a wide range of political opinions they disagreed with.
No room for capitalists, conservatives, libertarians, "classical liberals" or supporters of the US constitution in our city. #BostonResist

— Boston Antifa (@AntifaBoston) August 20, 2017
After that, outraged Americans signed the petition against Antifa in droves. By Monday, it hit the 100,000 signature threshold required for the White House to officially respond to it. The Trump administration has not commented on the petition yet.
Though Antifa has been active for years, the group stepped into the limelight in 2016, when its activists engaged in violence at protests against Trump, who was running for president on the Republican ticket.
The group was thrust into the limelight last week, after Antifa activists clashed with an "alt-right" rally in Charlottesville, Virginia that included neo-Nazis, white nationalists and Ku Klux Klan members. After the rally, a car driven by a white nationalist crashed into a crowd of counter-protesters, killing one woman and injuring 19 other people.
Having denounced the KKK, the neo-Nazis and racists, Trump called out Antifa as well, referring to them as the "alt-left."
"What about the alt-left that came charging at, as you say, at the alt-right? Do they have any semblance of guilt?" the president said at a press conference last week. "What about the fact that they came charging with clubs in their hands, swinging clubs?"
Trump's critics reacted with outrage, accusing the president of positing "moral equivalence" between Antifa and the neo-Nazis. A number of columnists and political analysts, however, point out that "Nazi" is quickly becoming a label for anyone Antifa disagrees with, which is having a chilling effect on political speech in America.
The ralliers in Boston "did nothing wrong," Boston Globe columnist Jeff Jacoby wrote on Monday. "All they were guilty of was attempting to defend the importance of free speech. For that, they were unjustly smeared as Nazis and their own freedom of speech was mauled."
It is unlikely the White House will actually go as far to declare Antifa terrorists, journalist John Bosnitch told RT. The petition is more of a message to the group to tone down their violence or face the consequences, he said.
"It is a big step to go from accusing some members of Antifa of being violent – which many of them are and intentionally so – to banning an organization on the grounds that its purpose is to create terror," Bosnitch said. "I don't think the White House will approve this, and I don't think they should."
You can share this story on social media: