Soros 'mafia state' speech a declaration of war – Hungarian PM Orban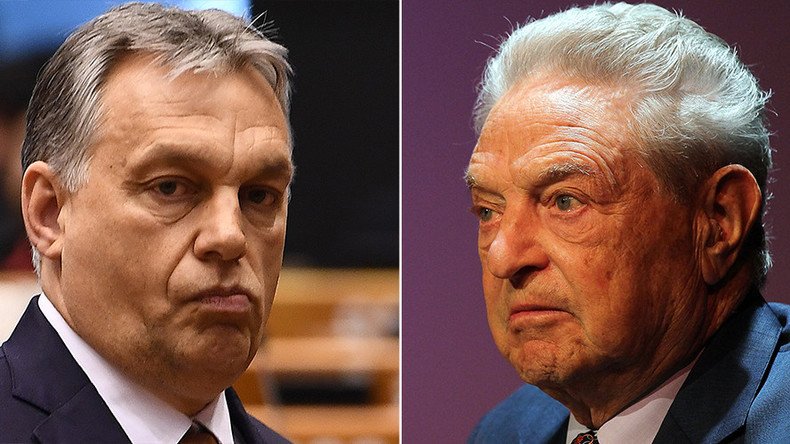 The war of words between George Soros and Hungarian PM Viktor Orban is threatening to boil over after the billionaire philanthropist claimed Hungary is a 'mafia state' posing as a democracy.
"He [Orban] sought to frame his policies as a personal conflict between the two of us and has made me the target of his unrelenting propaganda campaign," the Hungarian-born American financier said during his keynote address at the annual economic forum of the European Commission Thursday.
The speech was Soros' first public comment in response to a controversial bill proposed in April which threatens to close his Central European University.
"[Orban] cast himself in the role of the defender of Hungarian sovereignty and me as a shady currency speculator who uses his money to flood Europe — particularly his native Hungary — with illegal immigrants as part of some vague but nefarious plot," he added.
Orban did not take such accusations lightly, however, and fired back at Soros Friday.
"This is a declaration of war, no doubt," Orban told state radio Friday, as cited by Reuters. "The only network which operates in mafia ways, which is not transparent... in Hungary is the Soros network."
"This is why we must insist, and I personally insist on having a parliament decision on making these organizations transparent," Orban added.
Soros founded the Central European University (CEU) in 1991 as an independent American academic institution in Hungary. However, the bill introduced by the Hungarian parliament in April would force the university's closure as it does not have a physical campus in the United States. The move was seen by some as an attempt to limit free speech and liberal values in the country.
During his speech, Soros praised the tens of thousands of people who marched in protests across Hungary in April while decrying "the deception and corruption of the mafia state the Orban regime has established."
The European Commission began 'legal action' against the Hungarian government in April and the European Parliament voted to introduce penalties against the Hungarian government for a breach of EU values. With all sides refusing to stand down, discussion reached a dead end.
New York State Governor Andrew Cuomo broke the legal deadlock last week, however, when he said in a statement that New York, where the CEU is registered, would be open to negotiations on the matter, with the Hungarian government reciprocating by opening a dialogue with the European Commission.
Soros also railed against Poland's ruling party for its similar treatment of NGOs while describing the EU as "cumbersome, slow-moving" and in need of a "radical" reinvention.
"This is difficult to achieve when two countries, Poland and Hungary, are conspiring to oppose it," Soros said. "It will require resolute action by European institutions and the active engagement of civil society."
"Democracy cannot be imposed from the outside; it needs to be asserted and defended by the people themselves," he added.
In his annual state of the nation address in February, Orban pushed back against foreign-funded institutions operating in Hungary and throughout the European Union.
"Here there are large predators swimming in the water, and this is the transnational empire of George Soros," Orban said, adding that Soros-funded organizations "are working to bring hundreds of thousands of migrants into Europe."
In 2015, Orban described Soros as "the strongest example of those who support anything that weakens nation states, they support everything that changes the traditional European lifestyle," in an interview on public radio Kossuth.
"These activists who support immigrants inadvertently become part of this international human-smuggling network."
The Hungarian parliament is expected to pass the controversial bill later this month despite widespread condemnation from activists and politicians and a resolution passed in the European Parliament which condemned the "serious deterioration" in the rule of law and human rights in Hungary.
You can share this story on social media: