'US doesn't want strong & independent Brazil backing Latin America' – Brazil's Lula da Silva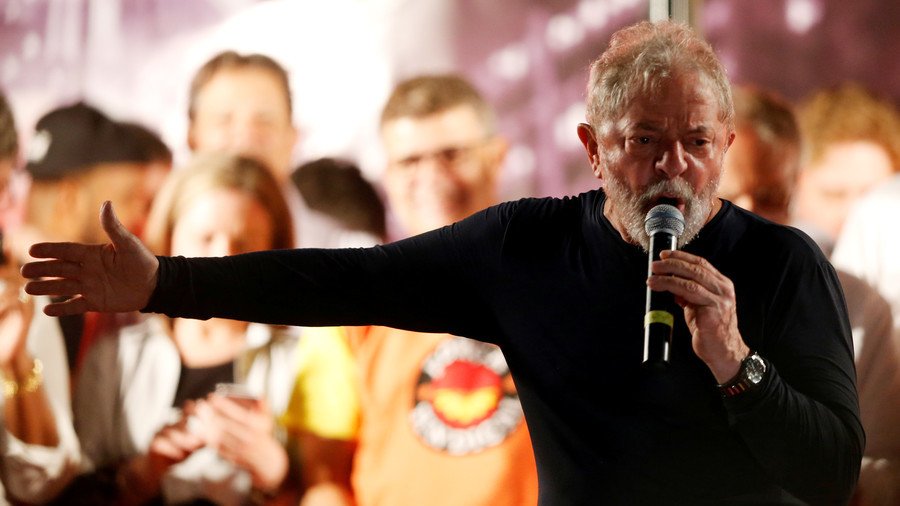 The political chaos in Brazil is a result of collusion between local elites and the US, which doesn't want a strong new independent player in Latin America and beyond, former Brazilian president Luiz Inacio Lula da Silva told RT.
Lula da Silva, 72, who served as Brazil's president from 2003 until 2011 and is one of the most popular politicians in the country's history, is now eyeing another presidential term. Polls suggest this could be a possibility, unless his ambitions are quashed by a pending court decision, which will either uphold or dismiss a nine-year sentence for corruption.
Commonly known as Lula, the Brazilian Workers' Party icon spoke on RT Spanish show, Conversation with Correa, hosted by Ecuador's former president Rafael Correa.
You can watch the full interview below.
Lula accused Brazilian elites of having common interests with their American counterparts, saying they pursue those interests at the expense of democratic freedoms in Brazil and the wellbeing of its South American neighbors.
"Before, Brazil was looking at the US and the EU with its back towards South American countries and Africa. I decided to change that," Lula said, noting that Brazilian elites have never come to terms with his choice. The emerging role of Brazil in the world has raised flags in Washington.
Brazil has become "part of BRICS, one of the biggest players in the world, and the United States was not used to seeing Latin America independent. We acted independently when we refused to join the Free Trade Area of the Americas (FTAA), when we created UNASUR and CELAC, when we formed the Council of South American Defense, and especially when we discovered pre-salt oil," Lula said.
He said that his party's draft oil bill has been met with fierce opposition, which he linked to the political crisis. The bill would have introduced additional royalties to be paid by international companies drilling the Brazilian shelf, with the idea that most of the money would be spent on education, science and healthcare.
The former president argued that corruption charges have become an "instrument in the moral and ethical fight against opponents." He called the charges against him "false," and said there was a massive media campaign against him and another former Brazilian president, Dilma Rouseff. "There is a conspiracy in Brazil between the media, the judiciary, the prosecution service and police," said Lula.
Speaking about why it might be better for his country to disentangle itself from the US, Lula said that a potent and prosperous Brazil, which is also an active player in the world arena, is not in Washington's interests.
"It's becoming more and more clear each day that the US doesn't want Latin America to be strong and independent, much less does it want such a big country as Brazil to influence the decisions made by Latin America," he said. "Frankly, North Americans were never truly interested in cooperating with Latin America."

He admitted, however, that Brazil's internal problems could not be entirely blamed on outside factors. "The saddest thing is that I believe we have also made mistakes. It's important to realize that me and Dilma [Rouseff], we both made some mistakes, our party made mistakes," Lula said. He argued that the Rouseff's impeachment might have been averted: "It wasn't easy for the opposition to achieve this, I think we were not firm enough."
Commenting on the role that Washington continues to play in Latin American politics, Lula referred to US President Donald Trump as a leader who appears to have not slightest interest in the region.
"He doesn't care about Latin America in the least. He was very clear when he said: 'My main concern is the US and the American people,'" Lula said. However, this stance could be worse, he added, since some Republican US administrations have proven to be less confrontational with Brazil.
"It may seem surprising to you, but Bush and Condoleezza Rice pursued a much more democratic policy towards Brazil than Barack Obama and Hillary Clinton," Lula said, noting that Obama may have been a "charismatic" leader, but his impressive public-speaking skills were not backed up by real actions.
"A powerful man from the US once told me: 'Obama's problem is that, while an exceptional speaker, he tends to forget everything he has said the very next day.' It's true, isn't it? He could give magnificent speeches on any important issue, but never actually delivered on his promises," the ex-president said, referring specifically to the unfulfilled promise to close Guantanamo Bay as one of many examples.
You can share this story on social media: