US asks Latin American countries to 'break all ties with N. Korea'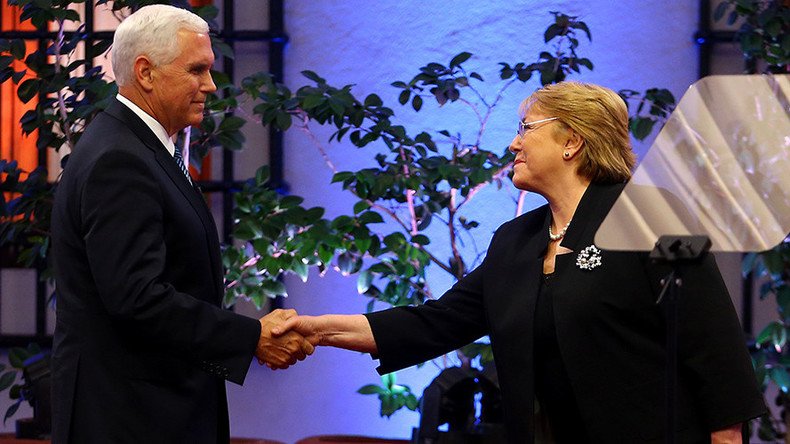 US Vice President Mike Pence has asked Chile, Peru, Mexico and Brazil to break diplomatic and other ties with North Korea, as part of a campaign to pressure Pyongyang into giving up missiles and nuclear weapons.
"It's imperative that the regime in Pyongyang understand that all options are on the table," Pence said on Wednesday in Santiago, in a joint press conference with Chilean president Michelle Bachelet.
"Our hope is that Chile, Brazil, Mexico and Peru will join us in breaking all ties with North Korea," he said.
Latin American countries severing diplomatic ties with North Korea will "facilitate a peaceful outcome" and show Pyongyang that "there is a cost" for defying the will of the international community, Pence said.
The US "will simply not permit a rogue regime in North Korea to possess nuclear weapons that can reach our country" and threaten Americans, Pence said.
Washington's objective is a nuclear-free Korean peninsula, Pence added. "We want the regime in Pyongyang to permanently abandon its nuclear and missile ambitions."
Chile's ambassador to China, who also represents the country in North Korea, has not presented credentials to the government of Kim Jong-un for the past four years, Pence said, adding that he asked Bachelet to make that break official.
Meanwhile, Russian Foreign Minister Sergey Lavrov warned that the possibilities of further economic pressure on North Korea have been practically exhausted.
"We can't support the ideas that some of our partners keep putting forward, which are intended to literally suffocate North Korea," Russia's chief diplomat told RIA Novosti, noting that the rhetoric from both Washington and Pyongyang concerning the situation on the Korean peninsula has toned down in recent days.
The US vice-president has been on a Latin American tour this week, visiting Mexico, Brazil, Peru and Colombia to drum up support for a blockade of Venezuela. The US has accused the government in Caracas of threatening democracy by holding elections for a constitutional assembly.
Pence also praised Chile as a "shining example" of a country that "chose economic freedom decades ago" and now is a "vibrant democracy" inspiring other Latin American countries.
The remark was likely a reference to the 1973 US-backed coup in Chile that installed General Augusto Pinochet in power.
You can share this story on social media: