Kim Jong-un & Xi Jinping held talks in Beijing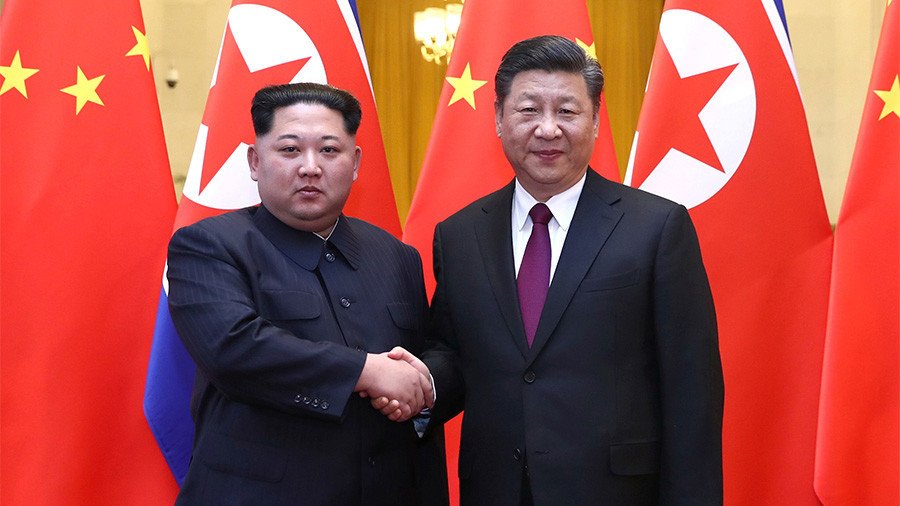 North Korean leader Kim Jong-un and his Chinese counterpart, Xi Jinping, have held talks in Beijing, in Kim's first foreign trip since taking office. Kim's wife reportedly accompanied him.
Both Chinese and North Korean state media have confirmed that Kim is on a state visit to China. Kim arrived at the invitation of the Chinese president, and stayed for an unofficial four-day visit.
The visit comes ahead of the highly anticipated talks between Kim and US President Donald Trump, which are expected to be held by the end of May. The exact date has not been set yet, and it was feared that the denuclearization issue, a long-standing stumbling block in US-North Korea relations, will be an unsurmountable obstacle on the way to a potential breakthrough.
However, following the negotiations with Xi, Kim indicated that Pyongyang may be ready for compromise.
"It is our consistent stand to be committed to denuclearization on the peninsula, in accordance with the will of late President Kim Il Sung and late General Secretary Kim Jong Il," he said in a stark contrast to some of North Korea's previous statements, as cited by Xinhua.
He went on to imply that North Korea will be poised to get rid of its own nuclear arsenal, provided the US and its ally, South Korea, cooperate.
"The issue of denuclearization of the Korean Peninsula can be resolved, if South Korea and the United States respond to our efforts with goodwill, create an atmosphere of peace and stability while taking progressive and synchronous measures for the realization of peace," he said.
Last September, North Korea carried out its sixth nuclear test, which was followed by a series of missile launches in September and November. However, starting from the Winter Olympic Games, that saw a high-ranking North Korean delegation arriving in South Korea, Pyongyang has shown it is willing to seek mutual rapprochement with the West and its neighbors, primarily South Korea.
In late February, South Korean President Moon Jae-in said the North Korean delegation at the Olympics indicated in talks with South Korean officials that they were willing to hold direct negotiations with the US.
Following historic talks between South Korea and North Korea in early March, which saw Kim hosting a 10-person South Korean delegation in Pyongyang for the first time since taking power, Seoul said that the North would halt its nuclear and missile tests for the time in negotiations with the US, and the North is ready to abandon its nuclear and missile program altogether if its security concerns are met.
"The North clearly affirmed its commitment to denuclearization in the Korean Peninsula and said it would have no reason to possess nuclear weapons if the safety of its regime [was] guaranteed and [the] military threat against North Korea no longer exists," Chung Eui-yong, South Korea's Director of the National Security Office, said at the time.
After his talks with Kim, Xi said the China-North Korea relations are "a strategic choice and the only right choice both sides have made based on history and reality," and praised Kim's record of improving the economy and well-being of ordinary North Koreans.
"We speak highly of this visit," Xi said, as cited by Xinhua.
China has been repeatedly criticized by Washington for being too soft on North Korea, despite Beijing backing all the latest rounds of sanctions against North Korea adopted by the UN Security Council.
Xi has agreed to pay a return visit "at a convenient time" to North Korea on Kim's invitation, KCNA reported.
After the news of Kim's visit to China broke, Washington revealed that it had been notified about the trip by Chinese officials on Tuesday. In addition, US President Donald Trump received a personal message from Xi, White House Press Secretary Sarah Huckabee Sanders said, attributing the visit to the "campaign of maximum pressure" conducted by the US against the North.
You can share this story on social media: