Xi reelected Chinese leader in unanimous vote by lawmakers
Published time: 17 Mar, 2018 05:14
Edited time: 8 Jun, 2018 12:52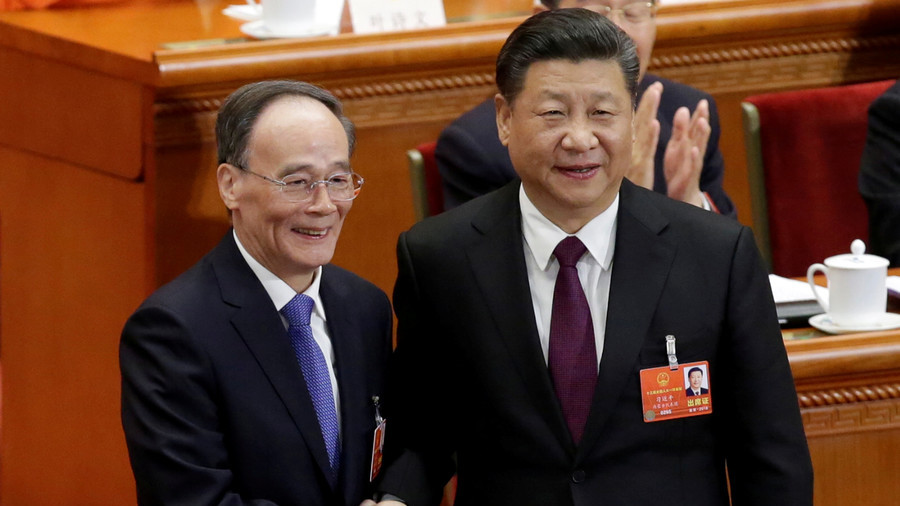 Xi Jinping was reelected as president by China's National People's Congress for a second five-year term on Saturday. It came a week after delegates voted to remove the limit on the number of consecutive presidential terms.
Xi, 64, also serves as chairman of the Central Military Commission and general secretary of the Communist Party of China. His reelection went unopposed, as nobody from the nearly 3,000 Chinese legislature members voted against Xi, who first took the reins in 2013.
In a widely anticipated move, Xi's close ally, Wang Qishan, who led a thorough anti-corruption crackdown, was promoted to vice president. Wang stepped down from his senior position in the Communist Party as head of an anti-corruption watchdog last October after reaching the age of 68, a customary age for high-ranking Chinese officials to go into retirement. The age limit is traditional, but non-binding.
Wang received only one vote against, with 2,969 delegates backing his promotion. Along with scrapping presidential term limits, the congress last weekend abolished term limits for the vice president as well.
The repeal has prompted speculation in the media that Xi eyes a life-long presidency for himself. The top Chinese Communist Party paper, however, denied the rumors. It clarified ahead of the vote that the measure "does not mean a life-long term system for leading officials."
Speaking at a fundraiser on March 3, US President Donald Trump caused quite a stir when he jokingly suggested the US should "give a shot someday" to having a "president for life," calling Xi "great" and causing his critics to chastise him for "dictatorial" leanings.
Responding to the backlash, Trump said he was merely joking, before launching an attack on "fake news" media for deliberatively taking his light-hearted remark at face value.