Neo-fascist group's HQ bombed in Italy
Published time: 8 Mar, 2018 13:05
Edited time: 8 Mar, 2018 14:36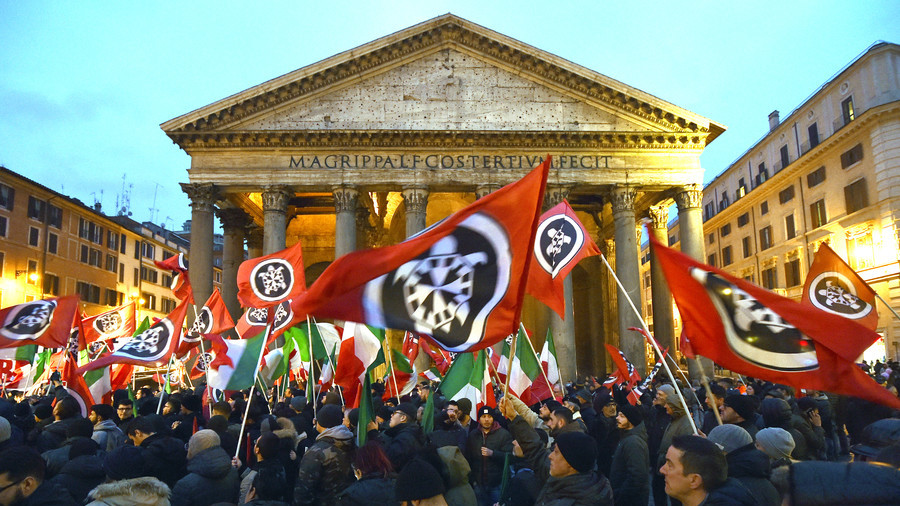 The headquarters of the neo-fascist Italian party CasaPound in Trento, northern Italy, has been bombed. It comes days after the parliamentary elections, which saw huge gains for the right-wing Northern League party.
Residents of Via Marighetto, the street on which CasaPound's office is located, were woken by the blast at around 4:30 am on Wednesday. No-one was injured by the explosion, reportedly a home-made device, though the entrance to the building was damaged. A slogan was also found painted at the scene: "The only useful vote – anti-fascism." However, the message was not accompanied by the symbol of any far-left group.
An investigation is ongoing into Wednesday's incident but the head of CasaPound Trento, Filippo Castaldini, has vowed the group will continue its political activities. Founded in 2003, CasaPound takes its name from the American fascist sympathizer and poet Ezra Pound, who moved to Italy and supported dictator Benito Mussolini in WWII. Its Trento headquarters have been targeted before – there was another explosion in March 2014, though again no one was injured.
READ MORE: Europe must be rebuilt around people, not bureaucracy – Italy's Lega Nord after big election success
The bombing comes in the wake of Italy's 2018 parliamentary elections, which saw the right-wing Northern League party make huge gains on a Eurosceptic, anti-immigration platform. Opponents accuse the Northern League and its leader, Matteo Salvini, of fanning the flames of racism and xenophobia in Italy.
Italy has long-standing tensions between fascists and anti-fascists, dating from the era of Mussolini. The "Years of Lead" in the 1970s saw both far-left and far-right militants carry out bombings and kidnappings across the country. More recently in the run-up to the election, street fighting broke out between Antifa demonstrators and police in the city of Genoa after the latter wouldn't let the former confront a rally being held by CasaPound.