Europe must be rebuilt around people, not bureaucracy – Italy's Lega Nord after big election success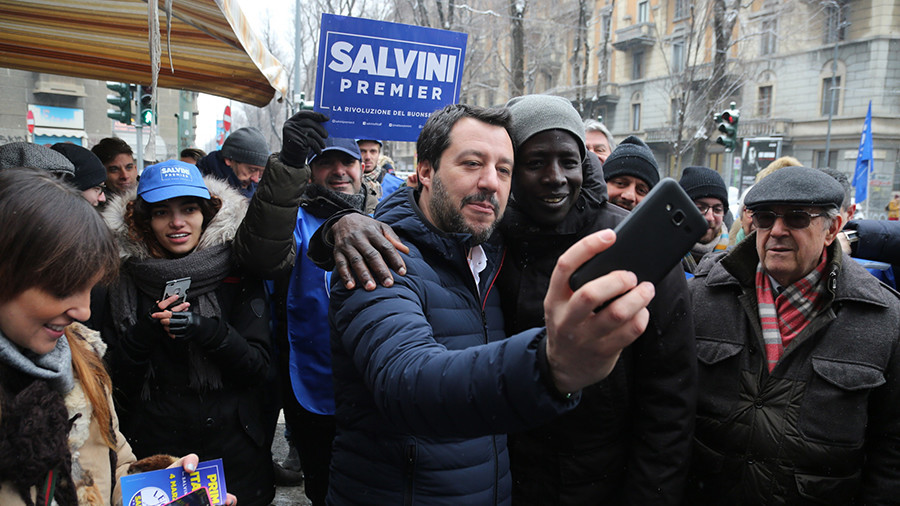 Europe should be rebuilt around people, not bureaucracy, said Matteo Salvini, the leader of the Euroskeptic Lega Nord party, after the group made considerable gains in the country's general election.
Salvini's party won over 17 percent of the vote in Sunday's election, according to the election results. To maximize its success in both the Senate and the Chamber of Deputies, Lega Nord opted for a center-right bloc with former Prime Minister Silvio Berlusconi's Forza Italia.
The center-right coalition has won and can govern, Salvini said, referring to the bloc's overall result of about 37 percent. And the politician had already claimed he would be the leader of the center-right coalition.
Salvini, however, ruled out a broad coalition government.
The 44-year-old also criticized the official currency of the European Union, the euro. It was and remains a mistake, he stressed.
However, he noted that holding a referendum over Italy's use of single currency was "unthinkable." Salvini has repeatedly called the currency "a crime against humanity."
He also took a tough stance against uncontrolled immigration, especially following the 2015 migrant influx into Europe. Communities in European states, including Italy and Germany, have voiced serious concerns that they have been left alone while being overwhelmed by the numbers of migrants.
The Sunday vote was "dictated by fear and despair," a local told RT, adding that the votes will go "to those who make promises and keep them."
Touching upon the "defeat" of Matteo Renzi's Democratic Party, another person explained that it was simply "the result of the [party's] policies."
Lega Nord has been governing the northern region of Lombardy since 2013 and Veneto since 2010. The party defended the "interests of the north, of the old country, so they moved [to] the right of the political spectrum in the last year, but they are not seen as a far-right party, even if you can tell that they are actually," Lorenzo Pregliasco, professor of political science at the University of Bologna, told RT. He noted that the "actual" far-right parties gained a very little of the vote at the election.
Think your friends would be interested? Share this story!
You can share this story on social media: