Italian polls prove again EU project 'is not working,' says UKIP as voters back anti-establishment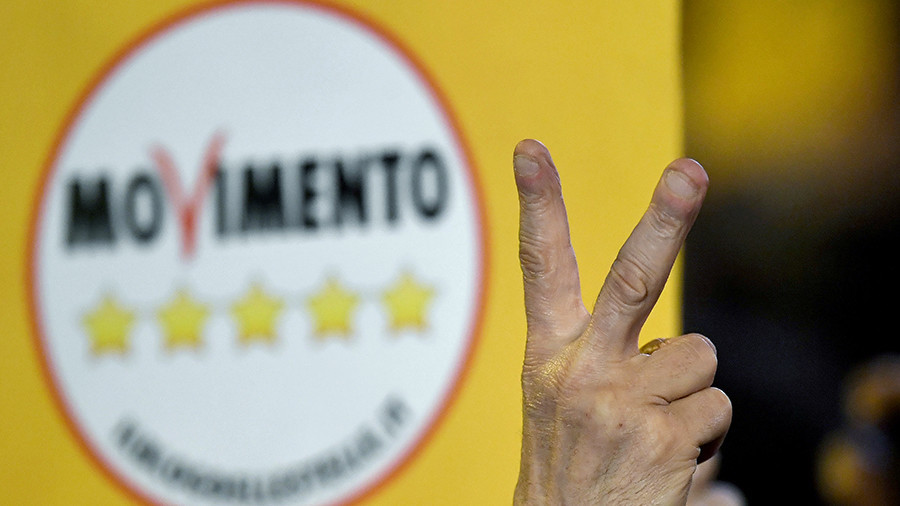 As projections show that voters in Italy are giving a cold shoulder to the ruling center-left, it's proof yet again that the EU project is not working, UKIP said in reaction to Sunday's poll.
"The election in Italy just adds more weight that the EU project is not working. But we all know what the EU's response will be, don't we? 'More Europe,'" the Euroskeptic party wrote on Twitter, as the latest exit polls showed the anti-establishment Five Star Movement (M5S) taking the lead.
UKIP's former leader, Nigel Farage, was one of the first to congratulate his Italian "colleagues" on the poll results.
"Congratulations to my colleagues in the European Parliament, Five-Star Movement, for topping the poll tonight," the anti-EU MEP wrote, retweeting a video posted by the Five Star Movement showing its members celebrating the results projection.
"This is a huge surge for Euroskeptic and anti-establishment parties in Italy. The EU's misguided immigration policy is leading to great resentment and will spell its end," Farage added.
WikiLeaks co-founder Julian Assange also weighed in, cheering "the largest party in Italy" following the polls.
The Euroskeptics have emerged as the top single party in Italy's election, and are expected to win 33.1 percent of the vote in the Senate, according to the SWG pollster for La 7 television channel. The prediction by another pollster, Tecne, suggests the anti-establishment party will win over 34 percent of the vote in the lower house, the Chamber of Deputies.
On Monday, Italy voted to elect the 630-member Chamber of Deputies and the 320-seat Senate, which have identical powers. The official results are expected later on Monday.
French far-right politician and 2017 presidential candidate, Marine Le Pen, tweeted that the projected results may signal an anti-EU sentiment in Italy. "The European Union is going to have a horrible evening," she wrote ahead of the election.
According to Professor Marco Bassani, the migration problem influenced the shake-up of the Italian political scene.
"There is one clear result that is though the Democratic Party that was in power is gone, [it will get] 20 or 21 percent, we'll see, but it's pretty much gone," Bassani, professor of the history of political theory at the University of Milan, told RT. The issue of immigration bothers the Democrats "a lot and clearly created that mess for them," he added.
Think your friends would be interested? Share this story!