Topless FEMEN protester confronts Berlusconi at Milan polling site (VIDEO)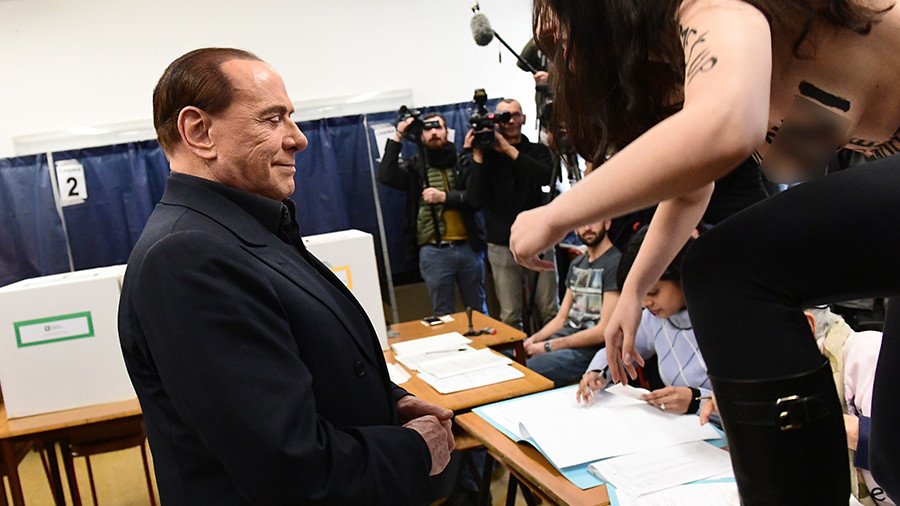 When former Italian PM Silvio Berlusconi arrived to cast his vote in the election, he wasn't expecting a topless FEMEN protester to jump on a table telling him that his time had "run out." However, that's exactly what he got.
Footage posted online by RT's Ruptly agency shows Berlusconi arriving at the polls in Milan amid a sea of journalists. As he smiles at the cameras, he is startled by a topless girl with "Berlusconi, your time has run out" scrawled across her chest, and the word "FEMEN" written on her back.
Berlusconi immediately walks away as the woman continues to shout the slogan "Berlusconi, time has run out!" The cameras turn to the protester, who is eventually dragged away.
It's not the first time the 81-year old has been confronted by bare-chested protesters from the movement. The same thing happened in 2013, when three FEMEN activists approached him in a similar way, according to Italian news outlet Rai.
Founded in Ukraine in 2008, the FEMEN movement has become known for its topless public stunts against religious, government and other public institutions. It fled Ukraine in 2013, citing fears for the "lives and freedom" of its members, and has since branched out to a number of other countries, with its main headquarters now located in Paris.
You can share this story on social media: