Antifa protesters set Genoa streets ablaze, face off with police (VIDEO)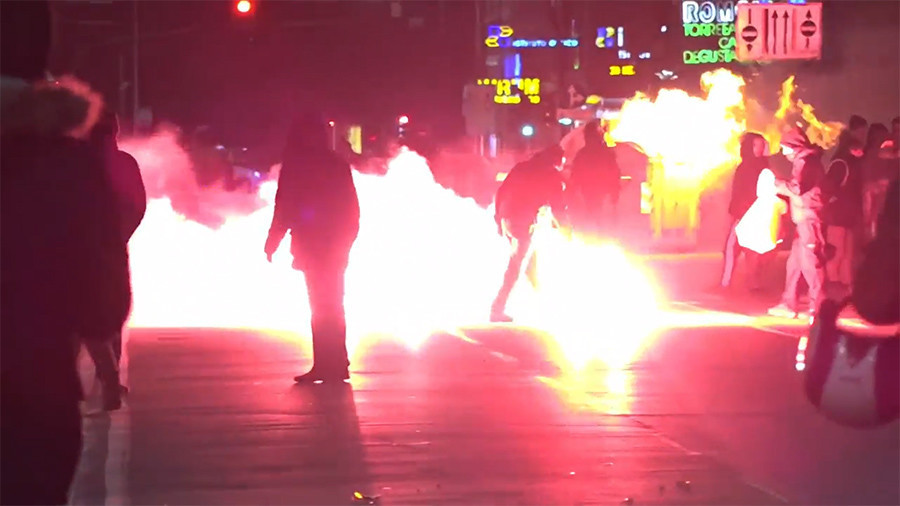 Antifa activists set fires and pelted police with bottles after being barred from reaching a far-right rally being held in the Italian city of Genoa. The clashes highlight political tensions ahead of Sunday's general election.
According to local press, around 250 'anti-fascist' demonstrators threw smoke bombs, started fires and clashed with municipal police on Friday. It came after authorities prevented them from confronting a far-right rally organized by CasaPound, a neo-fascist political party named after American poet and Fascist sympathizer Ezra Pound.
Not 'charisma' or 'cultural amnesia' - Italians will vote for Berlusconi because they agree with him
Footage taken by Ruptly news agency shows fires and masked demonstrators blocking the city's roadways. Local media reported that the demonstration lasted about three hours, but failed to prevent Simone Di Stefano, CasaPound's leader, from speaking. There were no reported clashes between antifa activists and CasaPound supporters.
The Friday demonstration comes just two weeks after antifa activists protested a CasaPound rally in Italy's southern city of Naples. Twenty people were arrested during clashes with police.
In July, around 2,000 activists protested the opening of a CasaPound office in Genoa. The demonstrators reportedly plastered a banner on the door of the far-right party's new headquarters, reading "Close CasaPound. Get fascists out of the cities."


Like this story? Share it with a friend!