'Italy first'? Right-wing politician vows to kick out 100k migrants per year if elected PM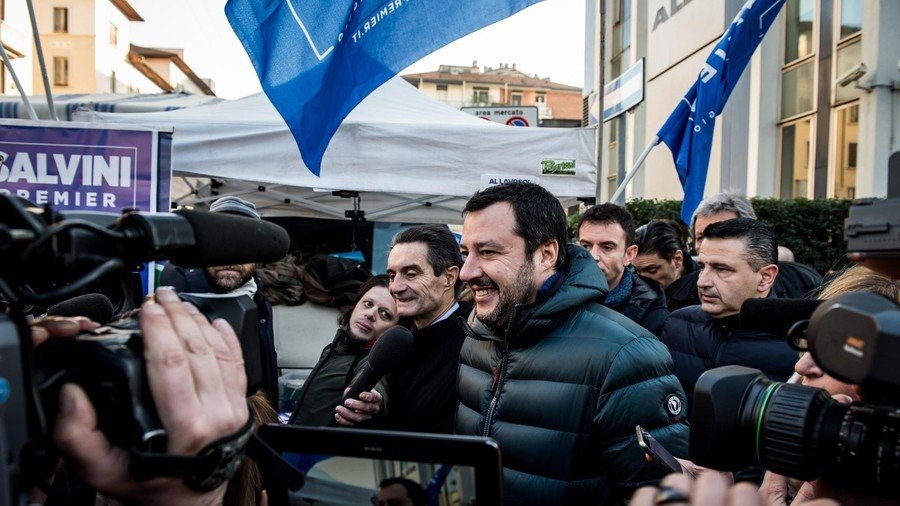 The head of Italy's ultra-nationalist Lega Nord party has promised to clean up the "mess" and kick hundreds of thousands of illegal migrants out of the country if he is elected prime minister in the upcoming general election.
The 2018 Italian general election is due to take place on March 4, after the country's Parliament was dissolved by President Sergio Mattarella in late December. The leader of Italy's traditional far-right 'Lega Nord' party hopes that his 'Italians first' slogan will sway enough voters to land him in office. Salvini is betting on Italians' anti-migrant sentiments to bring him to power as part of a center-right alliance led by Silvio Berlusconi's Forza Italia (Go Italy!).
"In Italy, there are too many illegal immigrants who go around making a mess, I cannot take it anymore," Salvini told the host of Dimartedì political talk show that aired on La7 news channel. "There are those who use the aircraft to bring immigrants to Italy. I would use them to bring them back home."
To tackle the record number of migrants arriving on Italy's shores from North Africa, Salvini, in a separate interview with la Repubblica, promised his electorate he would deport 100,000 illegal migrants each year of his potential five-year premiership. By the end of his time in office, Salvini pledges to expel 500,000 illegal migrants out of more than 600,000 refugees who arrived in Italy over the past four years.
Salvini vowed to protect the interests of the Italian people and the country's constitution, blaming his political opponents for "betraying" their people and selling off Italian companies to foreign multinationals. "The revision of the European treaties is expected in the center-right program," he noted, adding that principles of the "constitution come before those of Brussels and Berlin."
"I have a duty to change those rules because my country comes first," he stated. Salvini is an ardent supporter of Donald Trump's 'America First' policy and hopes that his party can ride the wave of anti-migrant discontent to eventually steer Italian politics in the new direction.
Following Trump's somewhat unexpected victory in the US elections, a number of anti-immigrant political parties in Europe have shot to unprecedented prominence. The leader of the National Front, the right-wing populist party in France, Marine Le Pen, came in second place during the presidential election in the country last year. The right-wing Alternative for Germany (AfD) party also made big gains and entered parliament for the first time in its history with 12.6 percent of the vote in the German election.
If you like this story, share it with a friend!
You can share this story on social media: