Italian anti-fascist protesters clash with police outside far-right gathering (VIDEO)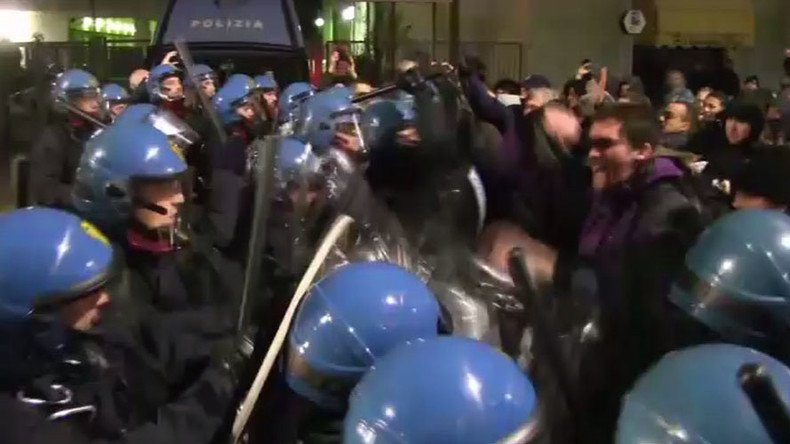 Anti-fascist demonstrators clashed with police outside of a far-right memorial assembly in Milan, Italy on Monday. The protesters tried to make their way to the location of the gathering, but were repelled by police in riot gear.
Protesters from the Antifa network shouted "Milan is against fascism and racism!" as they stood face to face with police shields on the National Memorial Day of Exiles and Foibe – the event marking the memory of victims of the Istrian-Dalmatian Exodus and those killed at the end of World War II by Yugoslavian forces.
Inside a municipal building in Zone 4 of Milan were members of the far-right movement Lealta a Azione, who were holding a heavily-guarded assembly, with several police outfits standing guard to keep the protesters away.
Carrying banners and posters, the demonstrators also lit a fire, but nobody was reported injured.
Although the National Memorial Day of Exiles and Foibe is widely accepted as a benign occasion, many in the political left view its recent rise in popularity as a manifestation of neo-fascist revisionism. Indeed, the occasion was appropriated by Italy's right-wing alliance in its campaign against the Italian left wing after the end of the war.
Each year the occasion is met by the same scuffles with police, as leftists attempt to break through the wall. Last year the anti-fascist movement also protested against a pan-European right-wing gathering, which included the Lega Nord's Matteo Salvini and the French National Front party's Marine Le Pen.
You can share this story on social media: