Mounted police & helicopters: Massive op evicts makeshift migrant camp in Milan (VIDEO)
Published time: 3 May, 2017 12:44
Edited time: 3 May, 2017 12:45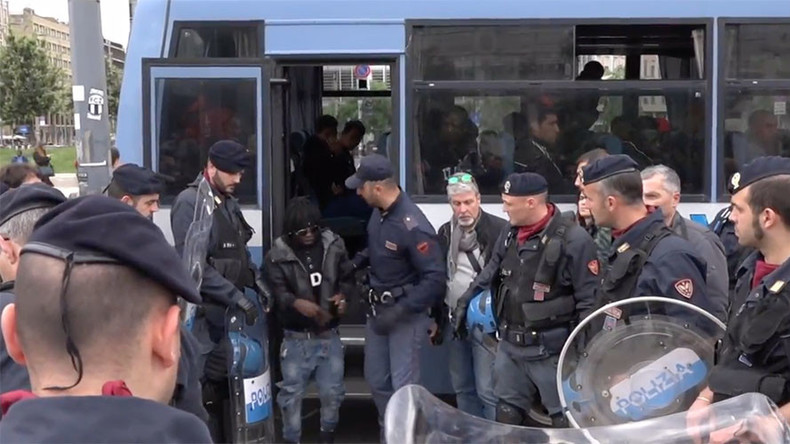 A massive operation, involving helicopters, mounted officers, sniffer dogs, and riot squads, resulted in the successful eviction of dozens of migrants from a makeshift camp near a train station in central Milan.
Around 60 migrants were evicted from the area surrounding Milano Centrale railway station at Piazza Duca d'Aosta in central Milan on Tuesday. The station was closed during the operation.
The migrants were rounded up by the overwhelming police force, thoroughly searched, and then taken away in police buses for identity checks. The video shows the search process and the migrants in the buses, shouting insults and making rude gestures at police and reporters.
The operation met a mixed reaction among Italian politicians. While some praised the raid, others voiced concerns about potential rights violations.
"Finally a good raid with helicopters and horses," the leader of right-wing Northern League (Lega Nord) party, Matteo Salvini, said, as quoted by Il Giornale. "Thank God, the police and the Carabinieri! We don't need these people."
READ MORE: Italian prosecutor accuses NGOs of colluding with human traffickers in Libya
While approving of "targeted, continuous, and silent interventions," the regional councilor for social policy of the Democratic Party, Pierfrancesco Majorini, doubted the effectiveness of the single operation, while voicing concerns over the potential breach of human rights.
"The verification of the condition and status of asylum seekers must always be accompanied by respect for human rights," the Local quoted Majorino as saying.