Smoke bombs, flares as 2,000 march in Genoa to protest far-right group's new HQ (VIDEO)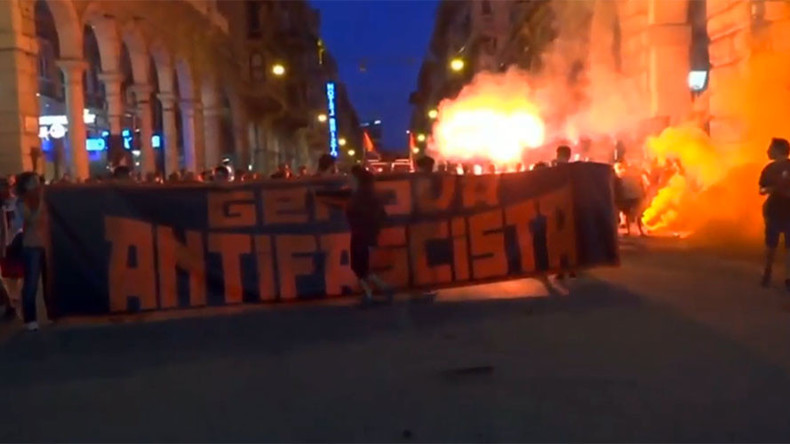 About 2,000 activists poured into the streets of Genoa, Italy, voicing their indignation over the opening of the new CasaPound group's offices at a site symbolic for the leftist movement. The activists set off smoke bombs and fireworks.
Over 2,000 people took part in the march "against the fascist and racist organization" and "for solidarity to migrants and against borders" on Friday, heading from Piazza Alimonda to Piazza De Ferrari in central Genoa, local media reported. A red and black banner, reading "anti-fascist Genoa," was carried at the head of the procession.
"We decided to get everyone behind a single banner, "anti-fascist Genoa," to emphasize the unity of the Genoese at this time of the great need," genova24.it cited activists as saying.
While smoke bombs and flares were flying during the march, it passed off largely trouble-free amid a heavy police presence.
In one of the minor incidents, protesters reportedly plastered a banner on the door of the CasaPound headquarters, reading "Close CasaPound. Get fascists out of the cities."
Police cordoned off the streets along the route with vans and trucks on both sides of the road to prevent any potential scuffles that might break out between left- and right-wing activists.
At the start of the march, organizers said that they would not allow the rally be disrupted by any provocations either from within or outside.
They also paid respect to the late activist Carlo Giuliani, who was shot dead by police in Piazza Alimonda while protesting against G8 summit in Genoa on July 21, 2001. His death and a controversial trial, during which the charges were dropped against the policeman blamed for his death, gave him iconic status in left-wing circles, within which Piazza Alimonda is commonly referred to as Piazza Carlo Giuliani.
READ MORE: 10,000 migrants rescued, dozens drown trying to reach Italy from Libya this week
The fact that CasaPound opened its new head office near this square sparked outrage, with some considering it to be a deliberate provocation. The group itself, however, denied the allegations that it had picked the place to antagonize the left.