Merkel walks out of parliament after AfD leader lambasts her support for migrant quota system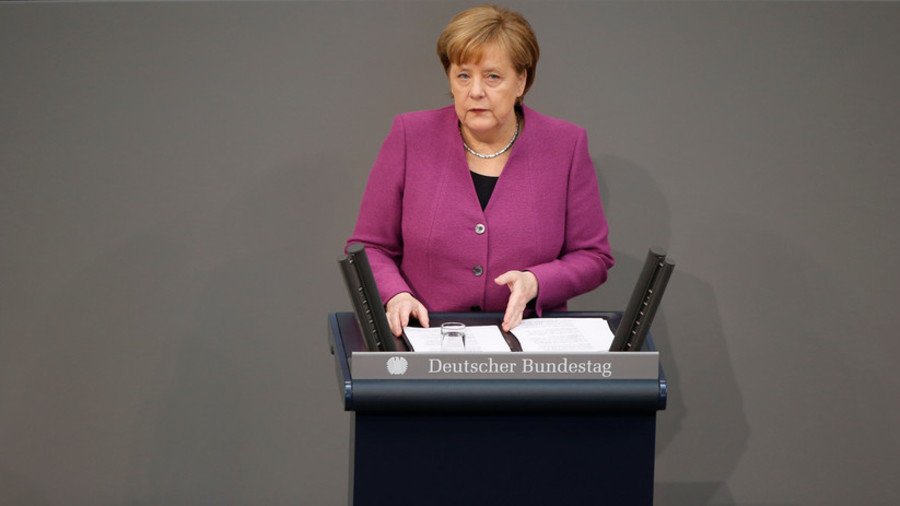 German Chancellor Angela Merkel walked out of a parliamentary session after a leader from the right-wing Alternative for Germany (AfD) party criticized her support of a proposed EU refugee distribution system.
While Merkel and AfD have never been friends, one particular comment by the party's co-founder, Alexander Gauland, prompted her to leave the Bundestag on Thursday. That remark slammed the chancellor's support for an EU quota system for accepting refugees.
"Countries want to decide for themselves who they take in. There is no national duty with regard to multiculturalism," Gauland said.
AfD co-founder Alice Weidel also had a lot to say during the session, including her view that Merkel is trying to punish the UK for voting to leave the European Union.
"The EU wants to make an example of Great Britain, a punishment beyond any economic or political reason. This is not how one treats a European partner," Weidel said. "Now Brussels, Paris, and Berlin are afraid that others could follow, that other states in Europe could take back their sovereignty."
She went on to accuse the European Commission of "planning to restrict Britain's access to the single market even during the transition period." Such a plan against Germany's biggest trading partner in the EU amounts to "taking free trade and competition as a hostage and making a failed EU ideology," Weidel said.
"The good trading relationship with Great Britain and the rest of the continent have to be maintained – otherwise Europe will be at a disadvantage in global trade." Merkel appeared to be less offended by Weidel's comments, as she at least remained inside parliament while the AfD leader was speaking.
While some of the AfD leaders' remarks were booed in the Bundestag on Thursday, the fact remains that it has seen a sharp growth in popularity. Recent polling found that it has garnered record-high support, becoming more popular than the Social Democrats (SPD) for the very first time.
Like this story? Share it with a friend!
You can share this story on social media: