Penis de Milo? Phallic parade honors ancient Greek god of fertility and wine making (VIDEO)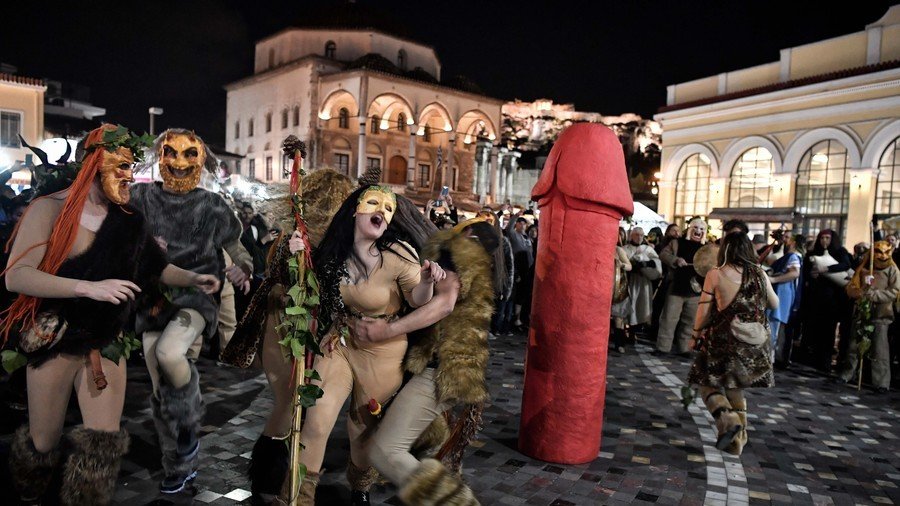 Revellers brought the winter festival season to a close in Athens with a penis-themed celebration of Dionysus, the Greek god of wine and fertility.
Greek culture has presented the world many gifts, from democracy to sculptures like the Venus de Milo. Now witness the unusual and raucous party for a god you may never have heard of - Dionysus.
Hundreds of festival goers donned fake penises and masks in honor of the deity, who in Greek mythology is said to have been the product of Zeus' relationship with a mortal woman.
The yearly festival usually involves lashings of wine, dancing, as well as theatrical plays in the Greek capital.
READ MORE: Sophisticated technology unearthed beneath ancient Greek 'pyramid'
Footage of the unusual event reveals how revellers enjoying the night out paraded through the historical center of Athens chanting and carrying large phallic objects.
The parade took place near Monastiraki train station before travelling up the Hill of the Muses, where the famous Acropolis, as well as the former prison of Socrates, is located.
If you like this story, share it with a friend!
You can share this story on social media: