Sophisticated technology unearthed beneath ancient Greek 'pyramid'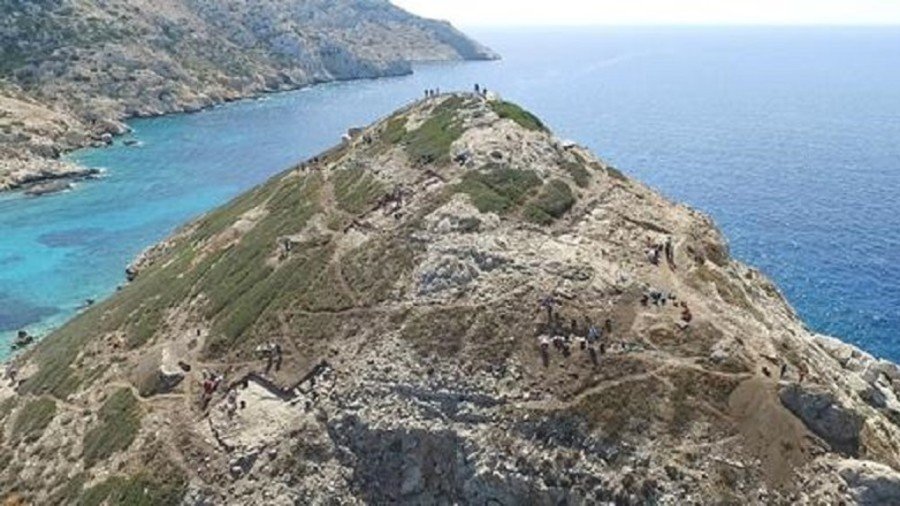 Archaeologists excavating an ancient pyramid-like structure on the Greek island of Keros have found evidence that its creators were far more sophisticated than previously thought.
The builders of the settlement of Dhaskalio carved the headland into stepped terraces, and added approximately 1,000 tons of white stone to make it look like a giant, gleaming, stepped pyramid. The stone was transported from 10 kilometers away.
New research on the 4,000-year-old site has revealed a range of impressive features, including a complex series of drainage tunnels, and metalwork that was "unusually sophisticated" for the time.

Evidence of metal-working was first discovered at the site 10 years ago and researchers have subsequently found workshops and related objects.
Archaeologists were not aware that the ancient civilization that occupied the site was capable of such feats of engineering, and are continuing their research to find out more about who lived there.
Dr Michael Boyd of the University of Cambridge, one of the directors of the excavation, says it is clear that the site was a focal point for efforts towards metallurgy and other skilled labor.
READ MORE: Mysterious stone sarcophagus cover from 610 AD found in Turkey (PHOTO)
"At a time when access to raw materials and skills was very limited, metalworking expertise seems to have been very much concentrated at Dhaskalio," he said in a statement.
"What we are seeing here with the metalworking and in other ways is the beginnings of urbanisation: centralisation, meaning the drawing of far-flung communities into networks centered on the site."
Dhaskalio was previously known for the discovery of thousands of broken marble figurines, dating back 4,500 years, thought to have been used in ritual activities.
Like this story? Share it with a friend!
You can share this story on social media: