Derogatory & demeaning: HRW slam Duterte's 'shoot female rebels in the vagina' remark
Published time: 13 Feb, 2018 12:40
Edited time: 6 Mar, 2018 13:26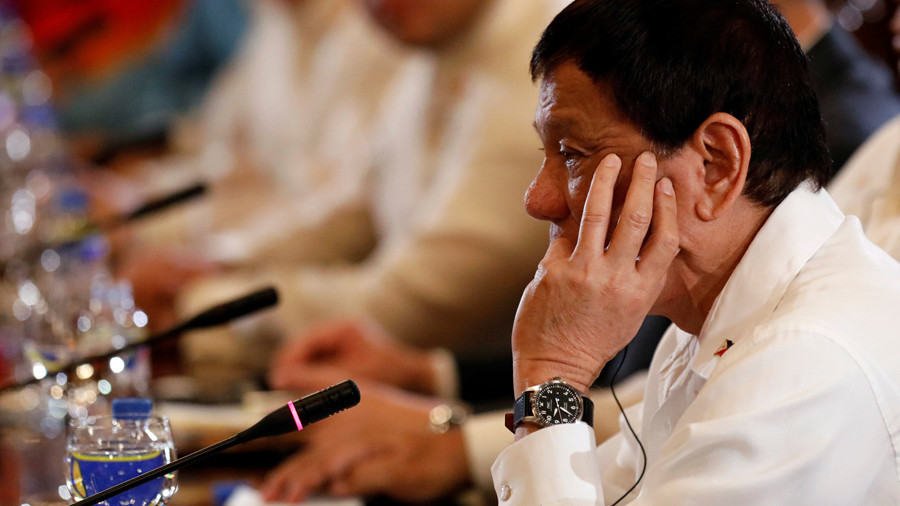 President Rodrigo Duterte violated international humanitarian law when he ordered soldiers to shoot female communist fighters in the vagina, Human Rights Watch (HRW) said.
"President Rodrigo Duterte's remark is just the latest in a series of misogynist, derogatory and demeaning statements he has made about women," Carlos Conde of HRW's Asia Division said in a statement on Monday.
"It encourages state forces to commit sexual violence during armed conflict, which is a violation of international humanitarian law," he added.
Addressing a group of former rebels at the Presidential Museum and Library last week, Duterte said that soldiers should take action to counter the threat of female opposition.
"'Are there any women holding guns?' 'Sir, she's a fighter. An Amazon.' 'Shoot them in the…,'" he said, according to the official transcript from the Presidential Communications Operations Office (PCOO) which censored Duterte where he used a word for vagina.
"Tell the soldiers. 'There's a new order coming from [the] mayor. We won't kill you. We will just shoot your [vagina] so that... it would be useless," he added. Duterte prefers to be addressed as "Mayor," paying tribute to his 22-year-old long service as Davao City mayor prior to the presidency.
His comments set off an avalanche of criticism within the social media community as well as amid human rights and feminist groups. Gabriela Women's Party, which represents Filipino women in the country's House of Representatives, said Duterte's remarks "encourage violence against women and contribute to their impunity."
This is not the first time Duterte has made misogynistic statements. Speaking at the Philippines-India Business Forum in New Delhi late last month, he remarked that Islamic State (IS, formerly ISIS) fighters lure followers with the promise of "42 virgins" in heaven.
His remarks came under fire from the Akbayan Women's rights group, which called Duterte an "international embarrassment."
"Duterte dismisses Filipinas as mere goods for trade, that women are just sights for tourists. This insults millions of women who work hard to build our nation with honor only to be represented as virgin fodder for tourists by the president himself," the group said, as cited by The Philippine Star.
The group added that the leader's comments encourage the culture of "treating women as sexual objects devoid of dignity and human rights."