'We can't afford war': Duterte recommends leaving South China Sea alone, Trump offers mediation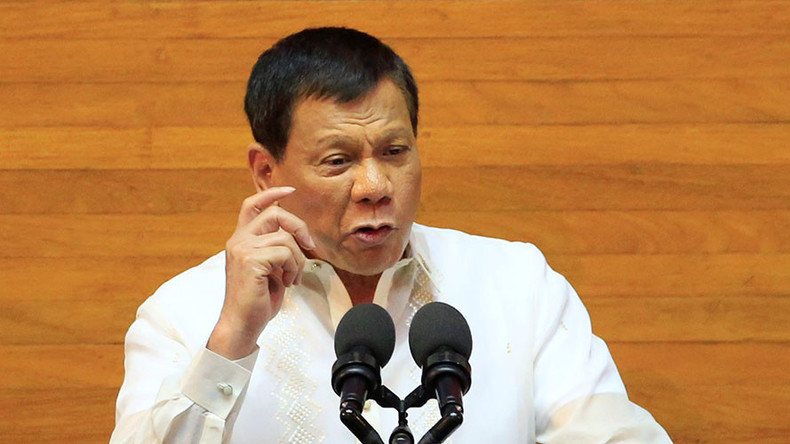 Philippines President Duterte recommended avoiding confrontation and leaving the situation in the disputed South China Sea "untouched." Meanwhile, Trump says he is "good mediator" and offered to help with the regional dispute.
"We have to be friends, the other hotheads would like us to confront China and the rest of the world on so many issues," Philippines President Rodrigo Duterte said at the Association of Southeast Asian Nations (ASEAN) summit in the Philippines capital, Manila, on Sunday.
"The South China Sea is better left untouched, nobody can afford to go to war," the Philippines strongman said.
The resource-rich disputed waters of the South China Sea have long been a bone of contention between the regional players – China, Taiwan, Vietnam, Philippines, Indonesia, Malaysia, and Brunei. Beijing has so far been the most assertive player. The dispute centers around the Spratly and Paracel Islands. Non-claimants to the issue, such as the US, stress the necessity for freedom of navigation in the area. China has reportedly been boosting construction on artificial islands it has built on the Spratly archipelago, where it plans to station warplanes and other military hardware, triggering international condemnation.
Duterte revealed that Chinese President Xi Jinping signaled to him during a meeting that he wanted peace in the region, saying he does not want to "waste the lives of my countrymen for a useless war that cannot be won by anyone.". Manila is hosting the ASEAN summit from November 10 to 14. The South China Sea will likely be a hot topic throughout the summit, as most claimants will be attending.
"China is to work with ASEAN countries to maintain peace and stability, as well as development and prosperity in the South China Sea region," Xi Jinping said at the leaders' meeting on Sunday.
US President Donald Trump, on his first Asian tour as president, offered to take on the role of peacemaker in the longstanding territorial issue.
"If I can help mediate or arbitrate, please let me know," Trump said at a meeting in Hanoi with his Vietnamese counterpart, Tran Dai Quang. He added that he is "a very good mediator and arbitrator."
Washington has opposed Beijing's territorial claims on the sea, saying the area should belong to no one, remaining legally open for America's own military patrols. The US and Chinese militaries have had frequent standoffs in the area, with Beijing accusing the US of damaging China's sovereignty and security interests.
In October, China dispatched two fighter jets, a helicopter, and a guided-missile frigate, to warn off the USS Chafee on a mission to challenge China's "excessive claims" in the South China Sea. In August, Beijing voiced concerns "about the frequent US military activities at sea" just two weeks after the US Navy sailed the USS John S. McCain guided missile destroyer past an island in the disputed Spratly chain.
You can share this story on social media: