China accuses US of damaging navigation safety with military activities at sea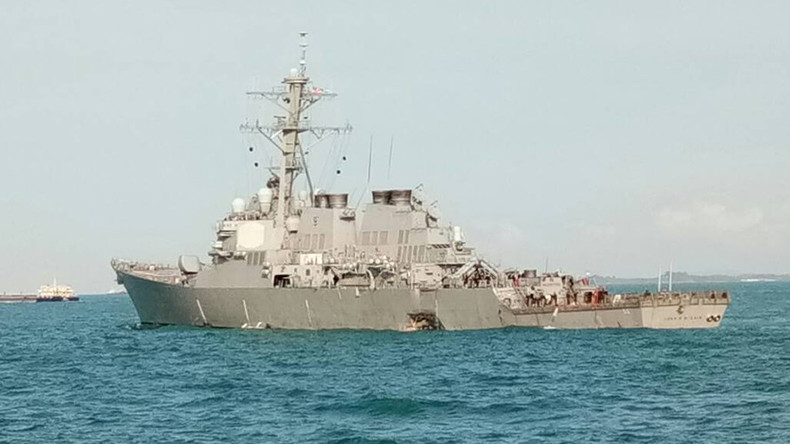 The recent surge in US Navy activity represents a danger to the freedom and safety of navigation, the Chinese Foreign Ministry spokeswoman said, in response to a question on the dismissal of the US Seventh Fleet commander after a "series of incidents."
"Many people are very concerned about the frequent US military activities at sea, which damage the freedom and safety of navigation. We hope that the United States will pay attention to and properly handle this issue," Chinese Foreign Ministry spokesperson Hua Chunying told reporters at a regular press briefing, while commenting on the recent developments following the incident with the US destroyer the 'USS John S. McCain.'
The spokesperson's comments echoed an editorial published by the state-run China Daily newspaper on Tuesday.
"The investigations into the latest collision [of the 'USS John S. McCain' with an oil tanker] will take time to reach their conclusions, but there is no denying the fact that the increased activities by US warships in Asia-Pacific since Washington initiated its rebalancing to the region are making them a growing risk to commercial shipping," the editorial reads.
"While the US Navy is becoming a dangerous obstacle in Asian waters, China has been making joint efforts with the members of the Association of Southeast Asian Nations to draw up a Code of Conduct for the South China Sea and it has boosted navigational safety by constructing five lighthouses on its islands."
The 'USS John S. McCain' destroyer was damaged and partly flooded after a collision with an oil tanker off the coast of Singapore, east of the Strait of Malacca, on Monday. Five US sailors were injured and 10 went missing during the incident. On Tuesday, divers located "some remains" within the flooded compartments of the vessel. There was no information released on whether the remains had yet been identified. No tanker crewmembers were injured, but the vessel sustained damage near the bow.
The probe into the incident is underway, but the commander of the Japan-based 7th Fleet, Admiral Scott H. Swift, was relieved of his duties due to "loss of confidence" in his ability to command, after a chain of incidents plaguing the Seventh Fleet this year.
On June 17, seven American sailors were killed following a collision between the destroyer 'USS Fitzgerald' and a Philippine-flagged container ship some 56 nautical miles southwest of Yokosuka, Japan. The ship's commander and executive officer were relieved of their duties following the probe into the incident, which was blamed on loss of "situational awareness" and poor seamanship.
Another notable incident involving US Navy ships occurred in January, when the guided-missile cruiser 'USS Antietam' ran aground in Tokyo Bay near the port of Yokosuka, Japan. No one was injured during the grounding, but the vessel damaged both its propellers and spilled 1,100 gallons of hydraulic oil, prompting environmental concerns.
In an incident not connected to the Seventh Fleet, the guided-missile cruiser 'USS Lake Champlain' crashed into a 60-ft South Korean fishing boat in May. No one was injured during the open sea incident.