US destroyer challenges Beijing's 'excessive maritime claims' in South China Sea – report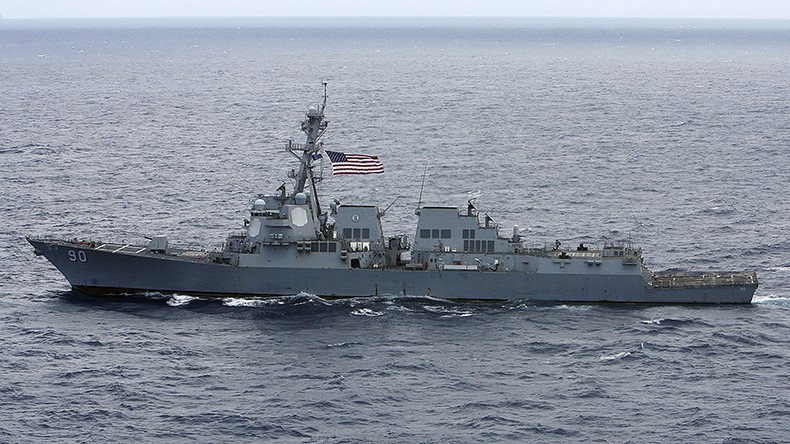 The USS 'Chafee' Navy destroyer has sailed near the disputed Paracel Islands in the South China Sea in a so-called "freedom of navigation" operation, which, according to military officials cited by Reuters, was conducted to challenge China's "excessive claims."
The USS 'Chafee' sailed past the Paracel Islands Tuesday, US military officials told Reuters on condition of anonymity. The destroyer reportedly sailed outside of, but "very close," to the 12-nautical-mile territorial limits of the islands which are claimed by China and its neighbors.
The mission was undertaken to challenge "excessive maritime claims" in the region, according to the officials. The destroyer, an active unit of the US Pacific Fleet, reportedly departed Hong Kong Monday.
The South China Sea is a highly contested resource-rich region comprising many small uninhabited islets, whose ownership are disputed by several nations. The Paracel Islands archipelago is claimed by China, Taiwan and Vietnam, while ownership of the Spratly islets is additionally contested by the Philippines, Malaysia and Brunei.
US ships have frequently sailed past the disputed islets as a part of so-called "freedom of navigation" operations. US Navy visits, as well as flights of American surveillance planes have been denounced in Beijing, which has repeatedly accused Washington of violating Chinese interests in the region as well as freedom of merchant navigation.
"Many people are very concerned about the frequent US military activities at sea, which damage the freedom and safety of navigation. We hope that the United States will pay attention to and properly handle this issue," Chinese Foreign Ministry spokesperson Hua Chunying said in August, following an incident involving the the USS John S. McCain.
READ MORE: Armed Chinese jets drive off US spy plane over Yellow Sea
The destroyer was damaged and partly flooded after a collision with an oil tanker near Singapore, east of the Strait of Malacca. Ten US sailors were killed in the collision and several others injured. It was the latest in the chain of incidents which has plagued the US Navy in 2017.
In June, seven US sailors were killed in a collision between the destroyer USS 'Fitzgerald' and a container ship some 56 nautical miles southwest of Yokosuka, Japan. Another notable incident involving US Navy ships occurred in January, when the guided-missile cruiser USS 'Antietam' ran aground in Tokyo Bay. While no one was injured in the incident, the ship spilled 1,100 gallons of hydraulic oil into the sea.
READ MORE: US Navy recovers remains of all 10 sailors killed in USS John S. McCain collision
You can share this story on social media: