Duterte offers tourists 42 virgins in mockery of ISIS recruitment propaganda (VIDEO)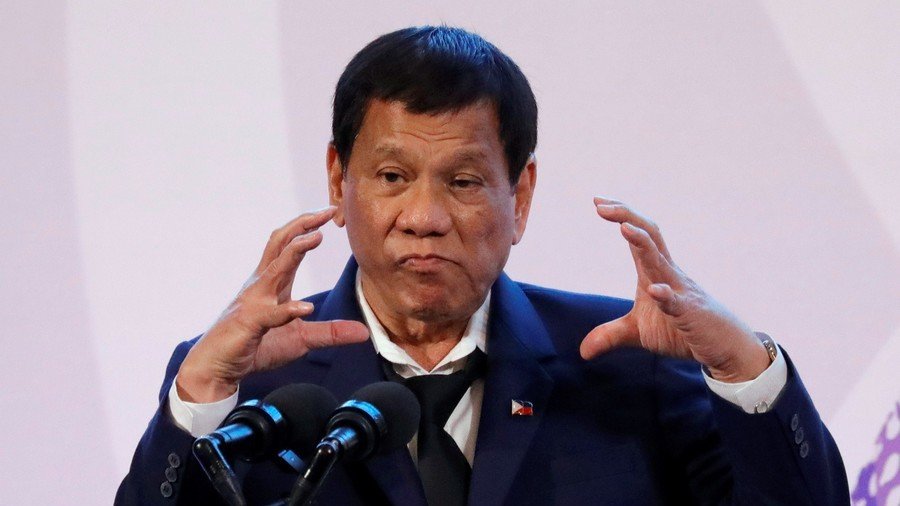 A purported Islamic State recruitment method of promising Islamist militants scores of virgins in the afterlife was taunted by Philippines President Rodrigo Duterte in a somewhat bizarre setting – a business conference in India.
Duterte was speaking at the Philippines-India Business Forum in New Delhi on Friday, which was meant to be an opportunity to drum up business on the islands in the Western Pacific.
READ MORE: Duterte declares liberation of Marawi City from militants
Telling delegates about his Muslim background, Duterte said the aims of Islamic State (IS, formerly ISIS/ISIL) are devoid of any reason, before mocking the idea of virgins being awarded to martyred fighters.
"It's an ideology that is totally bankrupt, totally empty and the only objectives are to kill and to destroy for no reason at all," he said. "The come-on is that if you die a martyr, you go to heaven with 42 virgins waiting for you. Well if I could just make it a come-on also for those who would like to come to my country."
READ MORE: Duterte orders army to 'shoot him' if he becomes dictator
Duterte, who is in India as part of the 2018 India-ASEAN Commemorative Summit, added: "I'd like to have the virgins here, not in heaven. God may not allow it."
Duterte was actually talking about improved conditions for business in the Philippines, including his aim to eradicate government corruption and terrorist threats on the island of Mindanao, where government forces have been engaged in a long-running urban skirmish with IS terrorists around the city of Marawi.
Last week the Philippines armed forces engaged with militants in Lanao del Sur for the first time since Marawi's liberation in October.
You can share this story on social media: