Duterte personally receives weapons shipment & tours Russian destroyer (VIDEO)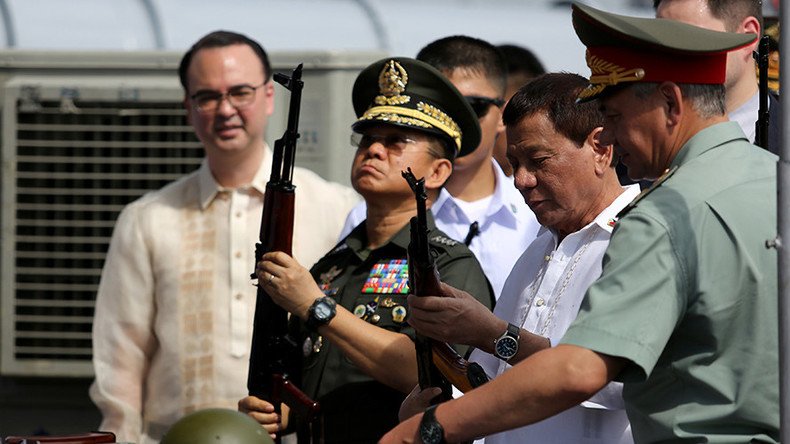 Philippines President Rodrigo Duterte has personally taken receipt of a shipment of Russian-made weapons and munitions as he toured the Pacific Fleet's Admiral Panteleyev destroyer currently docked in the Port Area of Manila.
The Philippines leader oversaw the transfer of around 5,000 Kalashnikov assault rifles and roughly one million rounds of ammunition that was donated by Russia as part of a new relationship between Moscow and Manila. In addition to the machine guns, Russia's Pacific Fleet also delivered 20 military trucks for the Armed Forces of the Philippines (AFP).
Duterte also signed a "certificate of donation" early Wednesday morning. He greeted Russian sailors as he toured the submarine hunter Admiral Panteleyev and examined the trucks.
The destroyer is just one of the ships from the Russian Pacific fleet that has docked in the Philippines as part of a six-day visit that is scheduled to last until Thursday. This is Russia's third naval visit to the country since Duterte took office in June 2016. During his presidency, he has repeatedly announced plans to shift Manila's military dependence on the United States to procuring arms from China and Russia.
The visit of the Udaloy-class anti-submarine Admiral Vinogradov and Admiral Panteleyev destroyers, as well as the sea tanker Boris Butoma, coincided with the arrival of Russian Defense Minister Sergey Shoigu who landed in the Philippines Monday to take part in the Fourth ASEAN defense chiefs meeting.
On Tuesday, Shoigu and his Philippines counterpart, Delfin Lorenzana signed an agreement on military and technical cooperation. According to the Philippines Department of National Defense (DND), the document contained provisions on various areas of military and technical cooperation in the areas of "research, production support, as well as the possible exchange of experts and training of personnel for joint programs."
PHL Defense Secretary Delfin Lorenzana & Russian Defence Minister General Sergey Shoygu signed Agreement for Military-Technical Cooperation pic.twitter.com/EwB7wTHohm

— DND Philippines (@dndphl) October 25, 2017
"The leaders of our states have outlined the strategic priorities of bilateral cooperation. Active work is being conducted today to implement the agreements reached, including to further strengthen ties in the defense sphere," Shoigu said after signing the agreement.
PHL and Russia also signed a contract for the Philippines' procurement of defense articles from Russian state-owned company, Rosoboronexport

— DND Philippines (@dndphl) October 25, 2017
In addition, Russia's Rosoboronexport CEO Aleksander Mikheyev also reportedly signed a contract to supply RPG-7V reusable, shoulder-launched, anti-tank rocket-propelled grenade launchers to the Asian country. The details of the contract, however, were not made public.
You can share this story on social media: