'If nobody dares, I'll pull the trigger': Philippine President warns criminals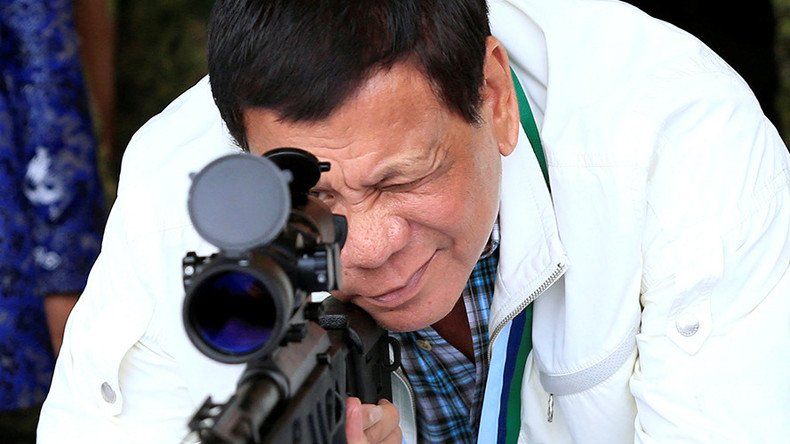 Filipino President Rodrigo Duterte has said he is willing to shoot criminals himself if law enforcement doesn't step up to the task, days after scaling back his conroversial anti-drugs campaign.
Earlier in October, Duterte called off the Philippine National Police (PNP) from the drugs war to appease "bleeding hearts and media", putting the sole responsibility for the campaign in the hands of the Philippine Drug Enforcement Agency (PDEA). But on Friday, the president seemed to question the PDEA's ability to carry out its mission with the appropriate degree of ruthlessness.
"Those who rape children, who rape women, those sons of... if you don't want the police, I am here now. I will shoot them. That's true! If nobody would dare it, I will pull the trigger," AFP quoted Duterte as saying.
The leader added that he was considering bringing the police back into the drug war, named Oplan Double Barrel and Oplan Tokhang. "Okay, let us see, six months from now. If things get worse again, I will say to these apes: 'Go back to this job. You solve this problem of ours,'" he said.
President Duterte's tough stance on crime has won him many supporters, and he made his way to the Filipino presidency last year by promising a fierce crackdown on crime and drugs, saying that he would feed 100,000 criminals to the fish in Manila Bay.
In January, the anti-drugs campaign was temporarily suspended following the kidnap and murder of a South Korean businessman by crooked cops. But little more than a month later the campaign was relaunched.
Nearly 4,000 people whom the authorities called "drug personalities" have lost their lives in Duterte's campaign, according to official statistics from the Philippine Information Agency. However, human rights groups say the government's figures leave out so-called vigilante killings, and the actual death toll could be a lot higher. Other drug-related killings have been blamed on crime syndicates and gang warfare.
You can share this story on social media: