American troops leaving Iraq for Afghanistan – report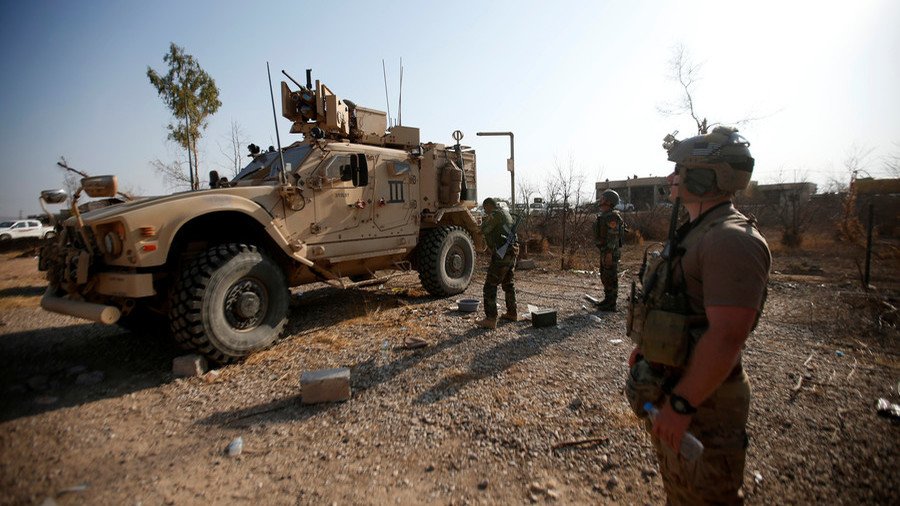 American troops are leaving Iraq for Afghanistan as part of an agreement between Baghdad and the US-led coalition, contractors told AP. Sixty percent of troops will eventually be withdrawn, according to an Iraqi official.
Dozens of US soldiers have already been transported over the past week, along with weapons and equipment, according to the contractors.
"Continued coalition presence in Iraq will be conditions-based, proportional to the need and in coordination with the government of Iraq," coalition spokesman Army Col. Ryan Dillon told AP.
A senior Iraqi official close to Prime Minister Haider al-Abadi said 60 percent of all US troops currently in the country will be withdrawn, citing an agreement reached between Baghdad and Washington. That would leave some 4,000 US troops to continue training the Iraqi military.
A journalist at the Al-Asad base in western Iraq reported that troop movements were taking place at the facility, which appeared to be in line with the contractors' accounts. However, the Iraqi government said the process has not officially begun.
Speaking to AP from the base, US Army 1st Lt. William John Raymond said his unit "had a recent change of mission and soon we'll be supporting a different theater of operations in the coming months." He declined to say where his unit was being redeployed.
If the drawdown is true, it represents the first of its kind since the war against Islamic State (IS, formerly ISIS) was launched over three years ago. It also comes ahead of national elections in Iraq, where the presence of US troops is a heated issue.
The US first launched airstrikes against IS in Iraq in August 2014, as part of a military intervention which was initially described as "limited." The presence of US troops grew, however, as Iraq's military struggled to roll back the extremists.
Iraq declared the defeat of IS in December – a major victory for country which once saw nearly one-third of its territory controlled by the group. Washington has backed Iraq's victories against IS, including the re-taking of Mosul. However, Iraq's Shiite-led paramilitary forces have called for a withdraw of US forces, while Prime Minister Abadi has said that Iraq's military will need American training for years to come.
The report comes after US President Donald Trump stated during his first State of the Union address that "new rules of engagement" have been in force for some months inside Afghanistan, adding that troops would no longer be "undermined by artificial timelines." Trump unveiled his strategy in Afghanistan – the scene of America's longest war – in August, vowing that retribution against terrorist groups there would be "fast and powerful."
Like this story? Share it with a friend!
You can share this story on social media: