'Where is the coalition?' Mosul still a corpse-filled ruin months after liberation (GRAPHIC VIDEO)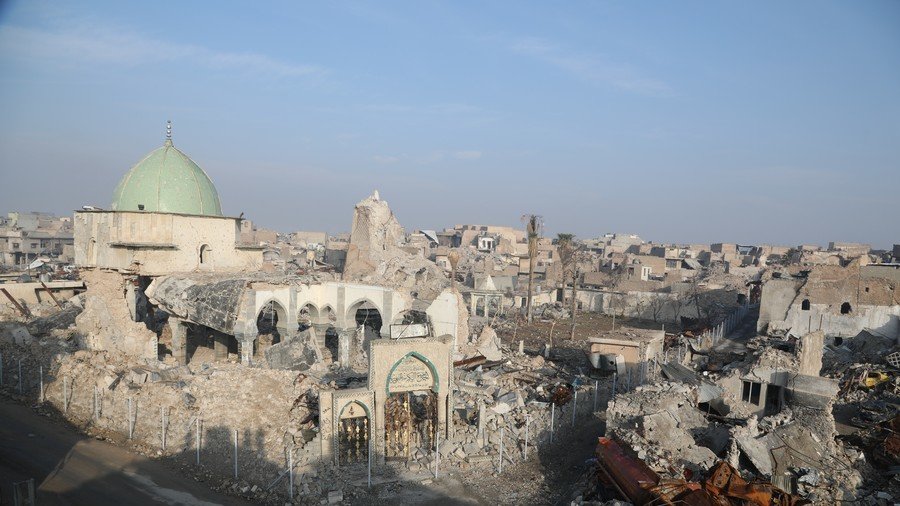 More than half a year after being liberated, Mosul's battle wounds still fester. Entire districts lie in ruins with bodies scattered in the streets, and locals say they have yet to see the aid they were promised.
Iraq's once-bustling second largest city, Mosul now looks like a battle-scarred shadow of its former self. More than seven months after Prime Minister Haider Al-Abadi swooped into Mosul to declare "total victory" over Islamic State (IS, formerly ISIS) terrorists there, large swathes of the city are still nothing but deserted crumbling ruins.
Aerial footage taken by the Ruptly video news agency reveals the devastation that still straddle the once densely populated areas, the consequence of incessant US-led coalition bombings and months of heavy fighting between Iraqi forces and the terrorists.
Once-iconic landmarks of the city have been brutally scared and are now unrecognizable, while the facades of many buildings have been turned to dust and rubble. And even though Iraqi authorities have cleared out some major avenues, smaller streets often remain blocked by mountains of rubble and collapsed buildings. Bombed out car wrecks are left unattended among the sea of debris.
A landscape of collapsed buildings and ruins hides a much more horrendous reality: The city is still filled with corpses, with bodies of militants and civilians littered across the city, half-buried in the rubble.
READ MORE: Girl in the rubble: Horrific image tells story of tragedy & neglect in liberated Mosul
"Devastation and the smell of death [are] hanging over the place," said Ruptly producer Dr. Bashar al-Khafaji who was at the scene. "Entire families died inside the houses," he said, adding, that it's difficult to find the bodies in the ruins. "They were under rubble for seven months or more... It looked as if the majority of the bodies are civilians. There were women, children, old people."
Mutilated and withered, the bodies of men, women and children are slowly decomposing in the open, spreading an unbearable stench. "Look, there are corpses strewn everywhere, in the houses in the streets. The smell is killing us," Nashwan Khairi, a man who lives in one of Mosul's districts, told Ruptly.
At least 2,521 civilians were killed and 1,673 wounded as the US-led coalition spearheaded the operation to recapture Mosul, which battered Islamic State's (IS, formerly ISIS/ISIL) so-called "capital" and its surrounds for over nine months. These figures should be considered as an "absolute minimum," a report issued by the UN High Commissioner for Human Rights (OHCHR) and the UN Assistance Mission for Iraq (UNAMI) said in November 2017.
No aid to speak of
Local authorities are struggling to remove the bodies. But without help from the central government and in the absence of the promised aid from the US-led coalition, the task seems to be beyond their capacity. Laith Ibrahim, a Mosul municipality department associate, told Ruptly that his group removed "approximately 500" bodies since they started work in just one area of the city. He added that there are many more corpses "in houses and on the roads."
Local residents returning to their 'liberated' city are greeted with partially or completely destroyed homes. But of more concern to most is the mass of bodies and the health hazard it poses. "Where is the state? Where is the government that promised us to clean this area from all the bodies and war's remnants that would cause harm and disease to all people who are returning to the area recently?" Khairi asked. "Are they just skilled at making promises on TV?"
"Our main problem now is the cleaning of the area of bodies scattered everywhere," another Mosul resident, Alaa Hashem Hamoudi, said as he called on the government to "speed up the process" and use "the most efficient means."
It appears the Iraqi government along with western powers, as well as aid organizations, are in no rush to address the plight of the locals. Mosul residents say they have received scant of aid from the authorities and nothing from the NGOs.
Some got "nothing but rice and bread" from the Iraqi authorities, Khairi told Ruptly. Others, though, were apparently not even provided with that. "We did not receive anything until this moment," Hamoudi said, adding that nothing has changed even after he registered his family with a relief organization. "We have not seen any kind of aid support since things finished here seven months ago. I received a small box of food only once. No coupons, no food, nothing," another resident, Khalil Ibrahim, said.
As for the much-promised aid from the West and the charities, it virtually non-existent, the residents said, adding, that they only "heard of" some "humanitarian societies" but never saw any of their representatives in the area.
"I have been here for a while, and I haven't seen any one from them, I bet they are even afraid of entering this area! They have no idea how horrible the smell here is, or how critical the medical situation is!" Khairi said.
He denounced Washington's promises as "lies.""There are no coalition [forces here]. Where is the coalition? Let them come here and speak! Who came? Honestly no one has come here. They're scared of coming here! Whenever they see that there are corpses they don't come," the Mosul resident added.
In early January, the US announced it would double the sum of reconstruction aid to the Iraqi government in 2018 to $150 million, but this is just a fraction of what is needed. The Iraqi government estimates that some $100 billion is required to get the city somewhat functioning again. The reconstruction of Mosul alone could take billions of dollars and as long as five years, Iraqi officials said.
You can share this story on social media: