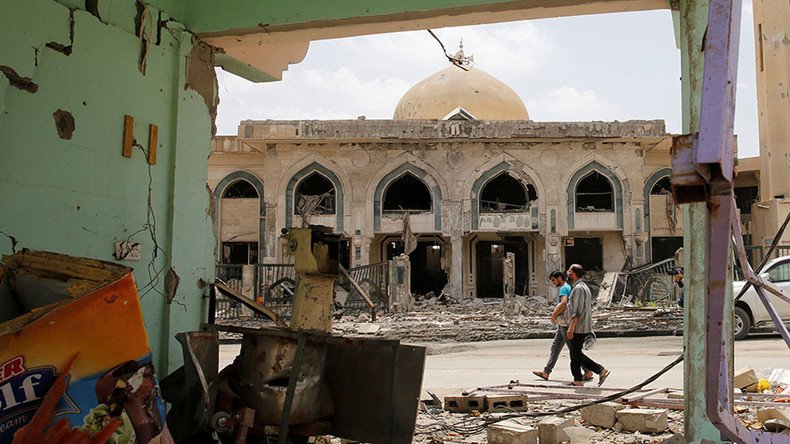 5 years and billions of dollars needed to rebuild Mosul, officials say
The occupation by Islamic State and the battle to oust the extremists have reduced much of Mosul to rubble. A five-year plan to get the war-torn city back on its feet has been drawn up, but finding the money is proving to be a problem.
The airport, the train station and the university are among the many buildings in Iraq's once-proud, second-biggest city that lie in ruins. Over 100,000 precious manuscripts from the university were looted or destroyed by Islamic State (IS, formerly ISIS/ISIL) who considered them blasphemous, according to activists.
In November 2016, the Iraqi government announced plans to start rebuilding Mosul after the city's liberation from the militants. Local officials are currently surveying the damage in liberated eastern Mosul.
"After Mosul is fully liberated, we need a working plan to restore things to the way they were before 2014 when Islamic State took over," Noureldin Qablan, deputy chairman of the Nineveh provincial council, told Reuters.
Qablan said that he and a group of 33 other Nineveh councilors have already started planning Mosul's reconstruction, which will be carried out in phases. The first six months will focus on bringing back power, security and running water, which will be following by a two-year rebuilding process.
The plan also includes a two-year reconciliation process and a 30-month drive aimed at attracting outside investment.
But all this will cost billions of dollars, which the Iraqi government is unlikely to be able to afford. Even repairing houses at a cost of around $5,000 apiece will stretch the budget.
"Honestly, we are not getting enough support. What has been allocated to Nineveh in 2017 was 52 billion Iraqi dinars ($44.5 million), which is a very small sum for a province this size," Qablan told Reuters.
"In 2013, we were allocated 738 billion dinars, yet after all this destruction we get just 52. It is very hard to reach our goals with this sum, so we are counting on foreign grants."
The Nineveh council hopes to attract international aid from organizations such as the United Nations. Italy is already helping to rebuild a hospital.
And the threat from IS remains.
Iraqi troops, backed by US-led coalition airstrikes and Shia and Kurdish militias, have liberated the whole eastern side of Mosul in a six-month offensive that began in October. But securing the west of the city, in particular the northwest and the Old City, where the militants are currently holed up, has been proving a problem as firmly-entrenched militants have put up fierce resistance through booby traps, sniper fire and mortar shells filled with toxic gas.
IS militants are still holding out in the historic Grand al-Nuri Mosque, where leader Abu Bakr al-Baghdadi first declared his so-called caliphate in 2014.
Hundreds of civilians are being killed as the confrontation between IS and Iraqi forces intensifies, and the UN has warned of a possible "humanitarian catastrophe" if the siege conditions continue.