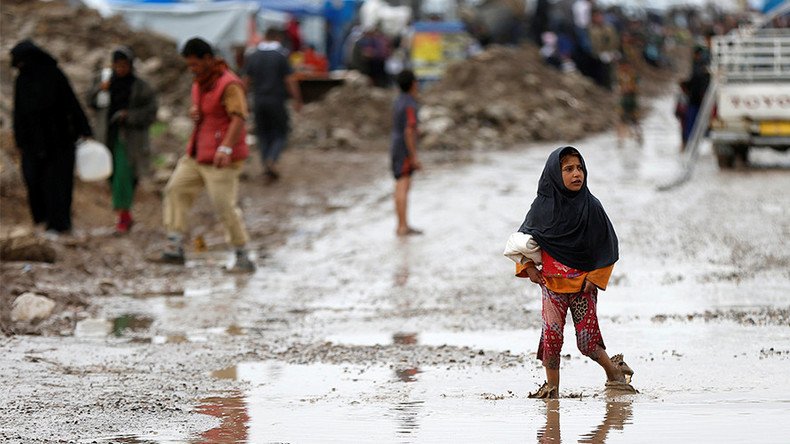 A displaced Iraqi girl walks outside Hammam al-Alil camp south of Mosul, Iraq April 14, 2017. © Muhammad Hamed
Reuters
Western Mosul on the verge of a 'humanitarian catastrophe,' UN warns
Fighting between government forces and IS in western Mosul could turn into the worst humanitarian catastrophe in the entire conflict, a UN official has warned, amid reports of mounting civilian casualties as the Iraqi army backed by the US-led coalition advances.
"If there is a siege and hundreds of thousands of people don't have water and don't have food, they will be at enormous risk," Lisa Grande, Deputy Special Representative of the United Nations Assistance Mission for Iraq (UNAMI), told Reuters.
"We could be facing a humanitarian catastrophe, perhaps the worst in the entire conflict," she added.
Mosul, Iraq's second-largest city, was captured by Islamic State (IS, formerly ISIS/ISIL) in mid-2014, after which it became the extremist group's de-facto capital in the country.
Iraqi troops, backed by US-led coalition airstrikes and Shia and Kurdish militias, have already liberated the whole eastern side of Mosul in a six-month offensive that began in October. But securing the west of the city, in particular the northwest and the Old City where the militants are currently holed up, has been proving a problem as firmly-entrenched militants have put up fierce resistance through booby traps, sniper fire and mortar shells filled with toxic gas.
The Old City houses the historic al-Nuri mosque, where IS leader Abu Bakr al-Baghdadi first proclaimed his so-called Islamic Caliphate in 2014. Hundreds of civilians are being killed as the confrontation between IS and Iraqi forces intensifies.
"It is a deteriorating situation, we fear for the lives of the 400,000 people [left] in the old city," Grande said.
"The security forces know the situation on the ground and they need to decide how this is best done, whether by evacuating civilians or protecting them in their homes or opening routes they can escape through."
In a report released in March, the Amnesty International accused the Iraqi government of failing to provide humanitarian corridors for Mosul residents, instead encouraging them to stay in their homes.
"Hundreds of civilians have been killed by airstrikes inside their homes or in places where they sought refuge after following Iraqi government advice not to leave during the offensive to recapture the city of Mosul from the armed group calling itself Islamic State (IS)," the report read.
Coalition airstrikes are one of the key reasons for the rise of civilian casualties, with one US bombing on March 17 leading to 240 deaths alone.
"Very often the jets would miss. Seven entire families near us were killed this way. Perhaps their weapons were faulty, as they regularly went off-target," a young female refugee told RT.
The jihadists would often provoke such "mistakes," drawing fire upon themselves while in residential buildings and then leaving them just before the jets hit.
"IS did it on purpose. They would break in and start shooting from the roof. The army could see them and in a half an hour there would be an airstrike," another woman said.
As it loses territory, IS has told the local population that the approaching forces will kill or imprison them in an attempt to stop people escaping. But when this doesn't work, the militant group has turned to mass executions of would-be refugees. According to local sources, 50 people were massacred in western Mosul in one such incident earlier in April.
Nevertheless, people are fleeing. Some 150,000 civilians have left the city, with a further 600,000 still in Mosul, 400,000 of whom are trapped in the embattled Old City, according to the United Nations. Those that stay have to go hungry as IS fighters hoard all essential supplies.
"What little food there was, ISIS shared among themselves. They said we were unbelievers, and didn't deserve anything," a young woman told RT.