ISIS launched gas attack in liberated area of Mosul – report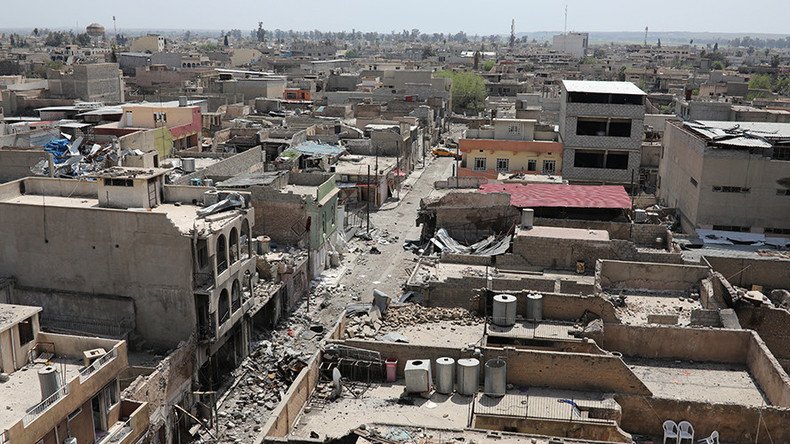 Islamic State (IS, formerly ISIS/ISIL) has fired a rocket loaded with chlorine in western Mosul, Iraq, hitting several soldiers with the gas, according to an AP report.
The attack occurred in an area of western Mosul that has been recently liberated from the militants by US-backed Iraqi forces, AP reported on Saturday, citing an Iraqi military officer who spoke on condition of anonymity.
A rocket loaded with chlorine was allegedly fired by IS the night before in the al-Abar neighborhood, the source, who was not authorized to release information, added.
READ MORE: ISIS executing civilians for trying to flee Mosul – eyewitnesses
At least seven soldiers reportedly suffered breathing problems and were treated at a nearby field clinic.
The Iraqi military is currently involved in an offensive in western Mosul, backed by US-led coalition forces. Battles against jihadists are now ongoing in the more densely-populated western half of the city, with Iraqi officials claiming that more than half of western Mosul has been retaken from the terrorist group.
As fighting in the months-long operation to liberate Islamic State's stronghold in Iraq has intensified recently, terrorists have been resorting to harsher tactics as Iraqi troops backed by Shia and Kurdish militias, as well as airstrikes from the US-led coalition, are closing in on the Old City.
There have been reports that IS is telling the local population that the approaching forces will kill or imprison them. When this attempt to deter people from fleeing didn't work, the militant group turned to mass executions of would-be refugees.
While the coalition forces have been reporting on their military advances in the region, the Russian Foreign Ministry has warned that the humanitarian plight of war-torn Mosul has "escalated to the limit." Iraq's president has compared it to a "full-on catastrophe."
You can share this story on social media: