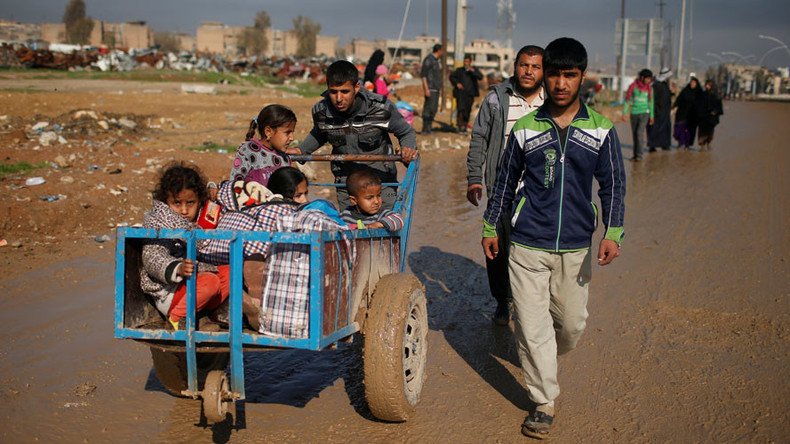 Displaced Iraqis flee their homes as Iraqi forces battle with Islamic State militants, in western Mosul, Iraq March 24, 2017. © Suhaib Salem
Reuters
ISIS executing civilians for trying to flee Mosul – eyewitnesses
Islamic State militants have been killing scores of civilians attempting to flee the war-torn city of Mosul in Iraq, according to eyewitness reports, with as many as 50 people being put to death in the latest mass execution.
Fighting in western Mosul has been intensifying in recent weeks as Iraqi troops, backed by Shia and Kurdish militias as well as airstrikes from the US-led coalition, close in on the Old City, a stronghold of the Islamic State (IS, formerly ISIS/ISIL).
As it loses territory, IS has told the local population that the approaching forces will kill or imprison them in an attempt to deter people fleeing. But when this doesn't work, the militant group has turned to mass executions of would-be refugees. In the latest incident, 50 civilians were executed in western Mosul on Saturday, a local source told Alsumaria News.
Another witness, speaking on condition of anonymity, told Reuters he found a relative's mutilated body left hanging on an electric pole in the Tenek district, along with three others who tried to flee.
"Their appearance was shocking. We weren't able to get them down and they have been there for two days," he said.
A woman who successfully made it out of IS-occupied territory described her narrow escape.
"They took our bags thinking there was gold or money in them and as they were busy checking the contents, we fled through the houses taking advantage of the pitch darkness," she told Reuters. "I fear those families who stayed in Daesh's [pejorative term for IS] grip met a terrible fate."
The Kurdistan Regional Security Council has said that 140 civilians were killed trying to flee IS-controlled areas on Monday and Tuesday.
US military sources say that IS is using the civilian population as human shields in order to maximize casualties, giving the militants a propaganda boost.
"They brought the civilians back into the fight," Brig. Gen. John Richardson, a coalition deputy commanding general in Irbil, told the Stars and Stripes, adding that Iraqi soldiers had recently found nine headless bodies at a traffic circle, along with a sign threatening more killings if anyone else tried to flee. "They're actually telling them to stay in the neighborhoods."
Some 150,000 civilians have fled the city, with a further 600,000 still in Mosul, 400,000 of whom are trapped in the embattled Old City, according to the United Nations.
But while the US-led forces might shift the responsibility for civilian casualties onto IS, scores have been reportedly dying in coalition airstrikes as well. In March, a Pentagon spokesman admitted the US "probably had a role" in a single bombing that killed around 240 people alone.
"You know that at the end of the missile there are four flaps, on that cartridge was written 'made in USA'," one man, who lost his wife and whose four-year-old child was left badly disfigured in separate airstrikes, told RT.