'US airstrikes that kill civilians in Mosul allow ISIS to thrive'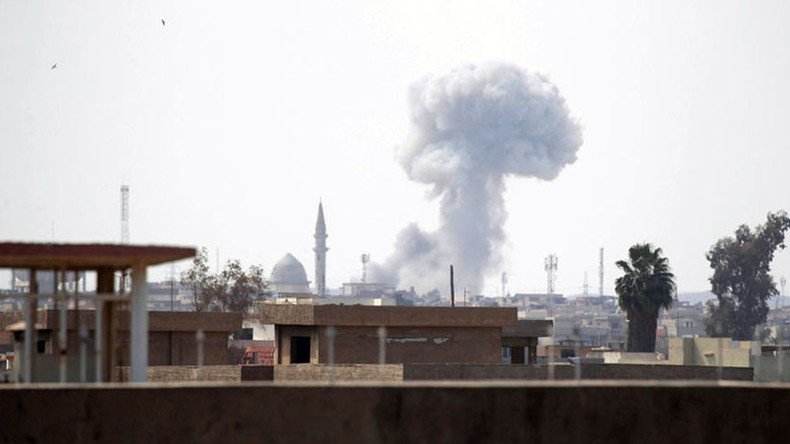 Deploying more troops on the ground in Mosul shows people are concerned about the consequences of large-scale airstrikes, which have killed hundreds of people in the city, Simon Mabon, Lecturer in International Relations at Lancaster University, told RT.
Amnesty International is blaming the US-led coalition for not taking precautions to prevent civilian deaths.
Meanwhile, the Pentagon had acknowledged a coalition airstrike may be to blame for killing more than 200 civilians, who were buried under rubble when the building they were seeking shelter in collapsed.
RT: America is sending additional soldiers to help retake Mosul. What are the implications here?
Simon Mabon: I think it shows that a lot of different actors are taking this situation in Mosul incredibly seriously. The idea of deploying more troops on the ground shows that people are concerned about the consequences of large-scale airstrikes. We've heard about what has happened in Mosul over the past few days with around 200 people having died in airstrikes in the city. That is really quite a negative thing to affect the US and the international coalition. It is going to affect their legitimacy, and ultimately it is going to give rise to conditions that will let groups like ISIS thrive. It will breed grievances, and it will sort of push people to the margins of society, struggling to meet their daily needs.
RT: Does this mean greater US involvement in Iraq once again?
SM: We see that, but I think it is too early to say whether we will see a large-scale deployment in Iraq. Obviously, if we go back to what Donald Trump was saying during the presidential campaign, he talked about eradicating ISIS and getting rid of the group. Now what that means is still to be seen… Will it mean a large-scale bombing campaign or more boots on the ground? What we see now is more of a surgical strike, and I think we need to wait and see what happens in the coming weeks, as to whether we'll see a large-scale US presence in the region.
RT: Considering Pentagon officials have admitted US troops are close to the frontline and even involved in combat, how much of their mission is really limited to "advise and assist"?
SM: Well, I imagine a great deal of it will be limited to "advise and assist" mostly because it is an important thing to build capacity in Iraq. It needs to build the army. That is not just in terms of creating an institution that can fight, but also creating an institution that can do much more in terms of building a national identity. It is really important to get this right, and the US, in particular, got it wrong 14 years ago. So making sure it is the Iraqis that are liberating Mosul, and Iraqis building on Sunni, Shia, and Kurd – all under this banner of the Iraqi army - getting that in the right way and doing that in the right way is really important not just for liberating Mosul, but also for building the future of Iraq.
RT: Aren't US and Iraqi forces capable of providing each other with better intelligence - wouldn't that help avoid civilian casualties?
SM: Well, you'd certainly hope so. This demonstrates that there are a number of strategic failures, or that there've been at least a number of serious mistakes made in the lines of communication between the two. But let's not forget Mosul is a large city with a substantial civilian population. If you're fighting a campaign like ISIS is fighting against the Americans this is a real counter-insurgency campaign where ISIS fighters will be hiding among civilians, and there will not be a clear segregation and separation between ISIS fighters and civilian populations. ISIS fighters on the ground are going to make this as difficult as possible for the United States and Iraqi Army to not have any collateral damage. It's what they want, after all.
The statements, views and opinions expressed in this column are solely those of the author and do not necessarily represent those of RT.
You can share this story on social media: