Swords, bombs & drones: RT visits 'museum' of ISIS trophies, cemetery of Iraq liberators (VIDEO)
Bomb components, suicide vests, drones and even swords used in public beheadings, RT has been granted exclusive access to a 'museum' of trophies seized from ISIS terrorists by a Shia paramilitary group during Iraq's liberation.
The Iraqi government officially proclaimed the country free from terrorists earlier in December. However, the long-awaited victory came at a huge cost. RT's Murad Gazdiev spoke to members of the Popular Mobilization Forces (PMF/PMU), considered to be one of the most important factions that helped crush Islamic State (IS, formerly ISIS) terrorists in Iraq.
Gazdiev travelled to an unnamed facility in Bagdad where PMF collected the deadly trophies. The makeshift museum contains weapons the terrorists used to kill and mutilate Iraqis, as well as swords used to cut off hands and heads for various offences.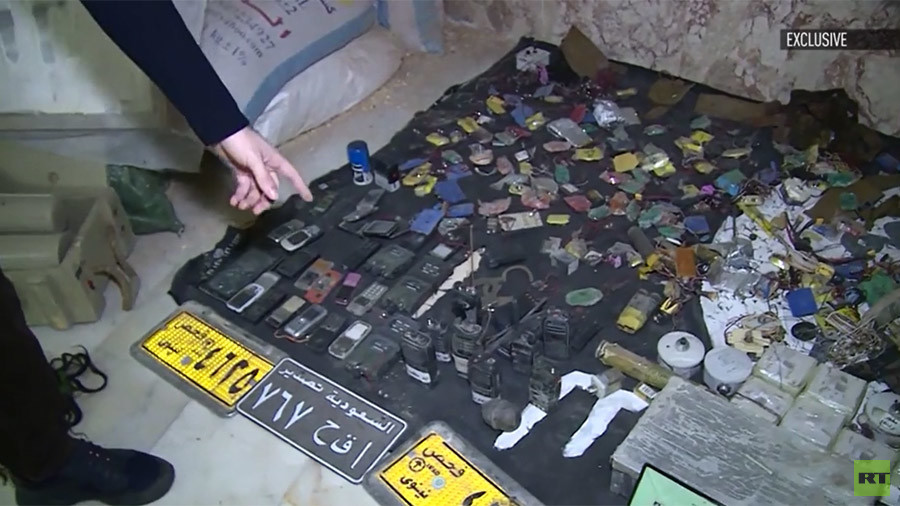 A pile of cell phones, detonators and bomb-making materials, as well as grenades and mines were exhibited in the next section. One more area of the 'museum' is devoted to the 'IS Air Force' – various commercial and homemade drones and gliders.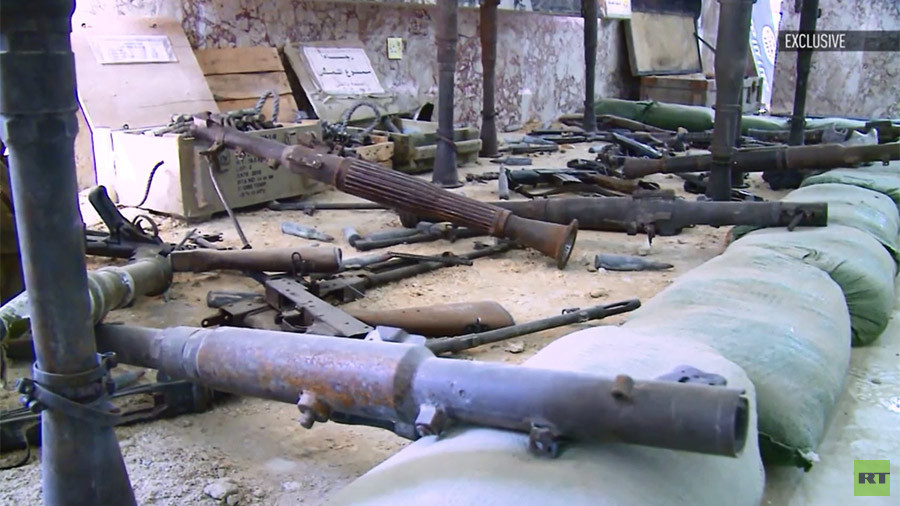 'Here lie: The Sheikh of Snipers who killed 343 jihadists, a boy too young to enlist…'
Tens of thousands of Iraqis joined militia units in 2014 after influential Shia cleric Ayatollah Ali al-Sistani, through a non-sectarian fatwa, called for a national uprising against terrorists. Though there are no official statistics, but according to some estimates, PMF units numbered over 100,000 fighters. Iran has been funding and training some PMU formations which fought alongside the Iraqi Army in the battle of Mosul and in other northern Iraqi cities.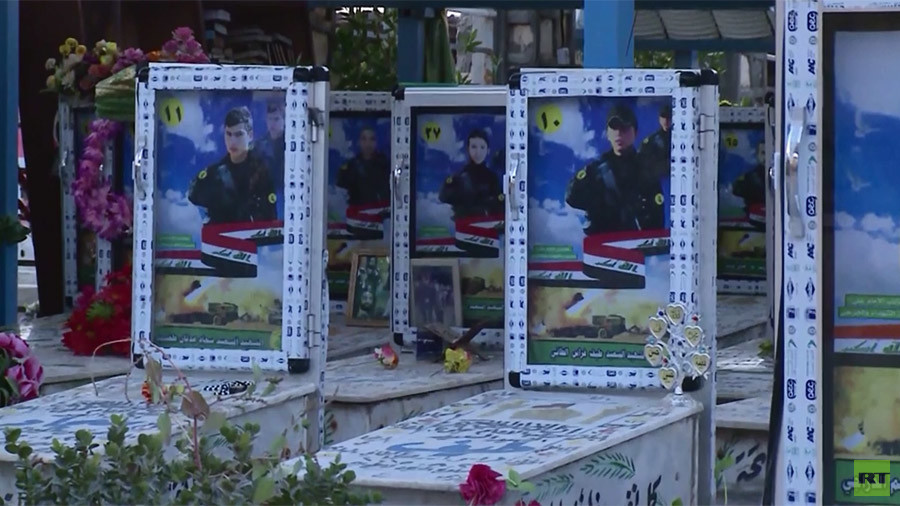 The RT crew also visited the Wadi-us-Salaam cemetery, also called the Valley of Peace – the largest burial ground in the world. Located in the Shia holy city of Najaf, some 160 km from Baghdad, the cemetery has recently seen a surge of new burials. Thousands of Iraqi fighters, many of whom were PMF volunteers, were buried here wrapped in the national flag.
Major-General Ali Hamdani, from the Ali al-Alkbar Battalion within the PMF, shared with RT stories of several people who sacrificed their lives fighting IS terrorists.
"This boy [was] 16 years old," he told RT, pointing at a picture of a teenager. "Although he was forbidden to, he still joined the resistance."
"And this was the sheikh of all snipers," Hamdani said, pointing at a portrait of the renowned shooter Abu Tahsin al-Salhi. "He killed 343 ISIS jihadists." Al-Salhi took part in at least five military conflicts before joining the ranks of PMF about three years ago.
Hamdani says that when al-Sistani urged the nation to stand up against IS, thousands flocked to Baghdad. "Ten members of one family and their father came to join us. We said, come on, we can only take two. They refused to leave," the major-general said. He added that while Iraqi soldiers fight for money, PMF fight and "sacrifice themselves to defeat IS."
Too early to disarm?
The status of Iraqi militias, however, remains disputable. The US is wary about the Iranian-backed militia units and even urged them to "go home," while some human rights groups accused them of looting. Some insist they should lay down their arms, while others believe they should become a permanent part of Iraq's security forces. What's not in dispute, is that these militias played a key role in bringing IS to its knees.
"The PMF's played a huge part, and they sacrificed much. But to be honest with you – they should hand in their weapons. This is the law of the country. We should pay them and thank them, and they, in turn, should disarm," Hamid Al-Mutlaq, Anbar Province MP, told RT.
But popular militias are not ready to retire just yet, and still see potential threats to their vulnerable nation, be it from remaining terrorists, neighboring countries or even current allies.
"We know the Americans very well, they always have a stake everywhere – with both the Iraqi government and ISIS. Look at what the Americans did to the Kurds – they encouraged their referendum, but at the last moment pulled their support. We don't take orders from Americans," Hamdani said.
Al-Sistani believes that paramilitary groups should join state security organs and that all weapons used in the fighting should be brought under the control of the Iraqi government so as to not to amplify chaos in the war-torn county.
"These fighters voluntarily went to other parts of Iraq and have been dying there," Iraq's Foreign minister Ibrahim al-Jaafari earlier told RT in an exclusive interview. "They deserve the highest merits. These formations have the constitutional status and the real military presence on the ground."