Iran-backed Shiite forces in Iraq now estimated at 100,000 – US military spokesman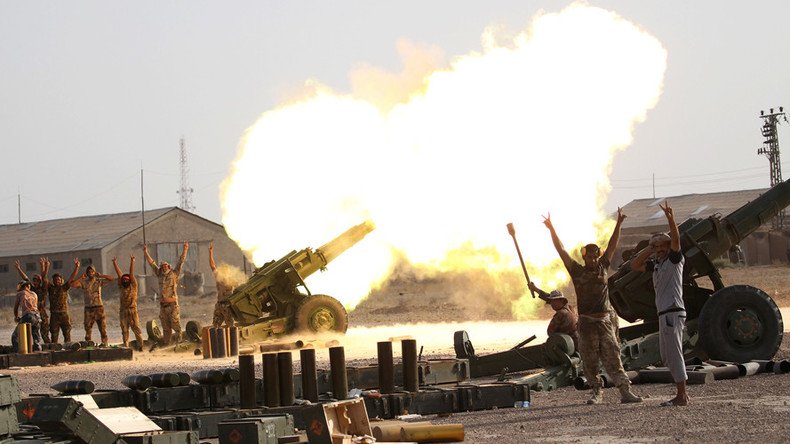 Iran-backed Shiite fighters in Iraq now number up to 100,000 fighters, the first-known estimate of their size, according to the US military. It was earlier reported that Iran's Syria-based commander is preparing to retake the Iraqis city of Mosul.
In what appears to be a deepening role played by Iran in the fight against Islamic State (IS, ISIS/formerly ISIL), the forces' estimates range anywhere from 80,000 up to 100,000, according to spokesman Colonel Chris Garver, who confirmed the figure to Fox after it was first floated by the head of US Central Command, Army General Joe Votel in late July, according to the Tampa Bay Times.
According to Garver, not all Shiite fighters making up the Popular Mobilization Forces (PMF) are Iran-backed – that figure usually stands at about 80,000. The rest of the figure is a mashup of Sunni tribal fighters from Iraqi provinces of Anbar and Nineveh, also rising up against the IS threat.
READ MORE: US military warns victories in Iraq and Syria not end of ISIS
The new estimates coincide with Moscow's confirmation that it is now launching anti-IS operations in Syria from an Iranian military base for the first time on Tuesday. Tu-22M3 and Su-34 bombers took off from the Hamedan Airbase, striking IS and Al-Nusra Front facilities in the provinces of Aleppo, Deir ez-Zor and Idlib. They were covered by Su-30m and Su-35 fighters, which took off from Russia's Syria-based Kheimim Airbase.
Aside from the PMF, another Iranian outfit – the Revolutionary Guard's Quds Force – is now forecast to play a massive role over in Iraq's Mosul, which has been in IS' grip since 2014.
During a Tuesday press conference, Garver commented on the prospect of Shiite militias participating in the liberation of the Sunni-dominated Mosul, Iraq's second-largest city. This was upon hearing reports from the PMF that Iran's prominent military commander from the Syrian theater of operations, General Qassem Soleimani, has moved his troops on the outskirts of Mosul to gear up for the operation. This was reported by the Long War Journal after remarks translated from the Fars News Agency.
However Garver, according to Fox, also stated: "We are not coordinating with the Iranians in any way, we are not working with them in any way." He added that "the government of Iraq comes up with the plan, we are supporting [their] plan for the seizure of Mosul."
Soleimani is said to be planning a coordinated operation with Iraqi government forces and the PMF.
This multi-pronged approach to fighting IS in Syria and Iraq also got a new player in the face of China, as Beijing announced Damascus's blessing to have the Chinese military provide humanitarian aid to Syria while also training Syrian personnel, Xinhua reported following word from a high-ranking People's Liberation Army officer.
You can share this story on social media: