Tech revolution in the making? Engineers 3D print shape shifting materials (VIDEO)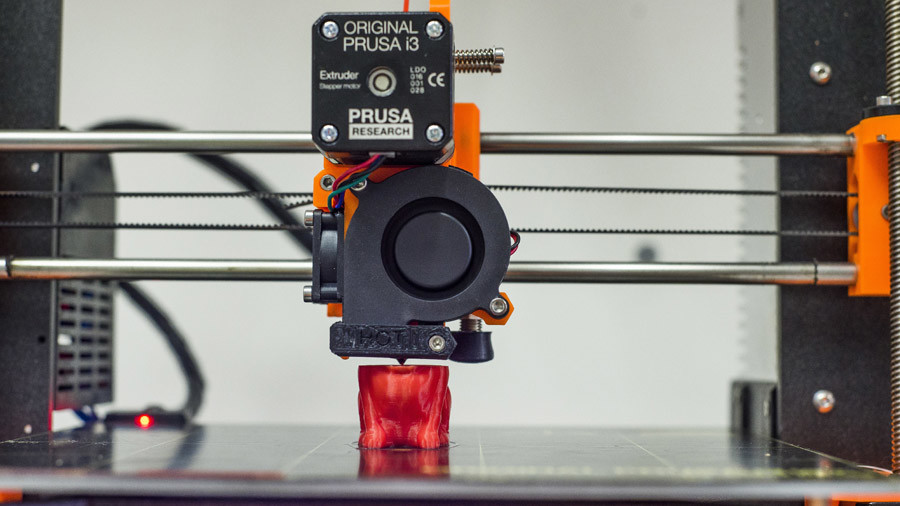 Engineers have 3D printed a shape-shifting smart gel that could revolutionize biomedical devices and pave the way for a new era of soft robotics.
Researchers at Rutgers University invented their 4D printing approach by combining a 3D object with temperature-responsive hydrogel. As temperatures change, so too does the shape of the object.
For the experiment, they used a lithography-based technique, involving printing layers of a special resin containing hydrogel and other chemicals, to create a chess piece.
The chess king was put in water. As temperatures increased, it dehydrated and shrank in size. When the temperatures fell again, it absorbed the water and returned to its original size.
According to the study published in Scientific Reports, the hydrogel begins to expel water and shrink in size at temperatures greater than 32C (approx. 90F).
Objects as miniscule as the width of a human hair up to those that are several millimeters long can be created with hydrogel using this fast and inexpensive method, according to the researchers.
"If you have full control of the shape, then you can program its function," Howon Lee, senior author of the new study, said. "I think that's the power of 3D printing of shape-shifting material. You can apply this principle almost everywhere."
READ MORE: Robotic gloves give you 'double hands' (VIDEO)
Hydrogels can be found in a variety of everyday objects from jello to diapers. Its use in biomedical applications is not new, though it has relied heavily on conventional, two-dimensional methods such as molding and lithography in the past.
This development could be a game-changer according to the engineers, who say it could lead to "living" structures in human organs and tissues, soft robots and targeted drug delivery.
"The full potential of this smart hydrogel has not been unleashed until now," Lee said. "We added another dimension to it, and this is the first time anybody has done it on this scale. They're flexible, shape-morphing materials. I like to call them smart materials."
Think your friends would be interested? Share this story!
You can share this story on social media: