Everyone's offended: 5 times retailers got hammered by religious customers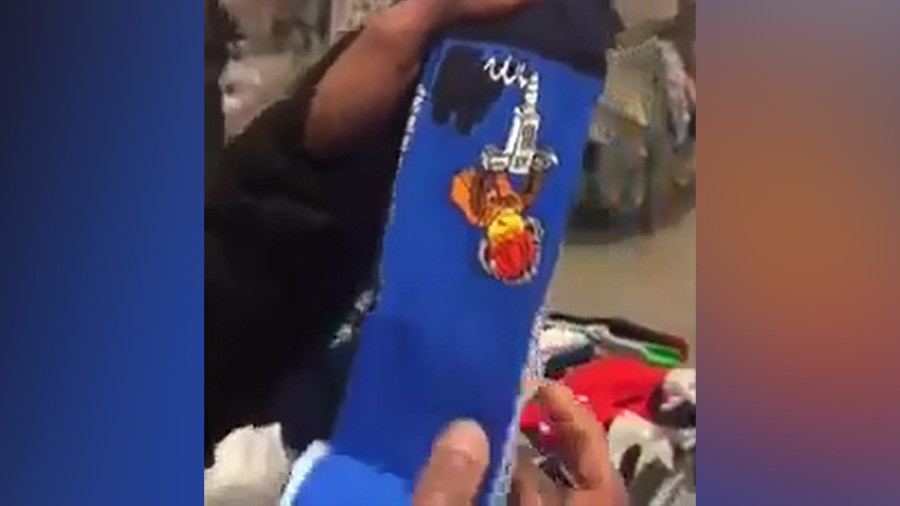 The age of the internet has allowed large retailers to reach billions of consumers – but it has also led to social media crusades launched by customers who want to guard their faith from products they deem offensive.
The most recent example of this perilous phenomenon is H&M's decision to pull a range of children's socks from its stores after receiving complaints that part of a design featuring a Lego man with a jackhammer allegedly resembled Arabic script for "Allah."
The Swedish clothing giant has had a streak of bad luck lately. Earlier this month it was in hot water for running a "racist"hoodie ad. In 2014, the retailer was even accused of exploiting the Kurdish female fighter aesthetic in its Autumn/Winter collection. Poor H&M just can't catch a break.
What other seemingly innocuous products, ads and marketing decisions have inspired Twitter crusades and Facebook fatwahs?
Tesco gets roasted over Christmas ad featuring Muslims
In November, UK grocery behemoth Tesco felt the wrath of Twitter after it ran an ad, "Turkey, Every Which Way," aimed at promoting inclusion during the holiday period. The ad was meant to depict how different British families prepare their Christmas dinner, but the company's decision to feature a Muslim family provoked horror and outrage on the interwebs.
READ MORE: Tesco Christmas advert featuring Muslim family stirs Twitter anger (VIDEO)
Lidl immediately regrets airbrushing Greek crosses
A common strategy employed by corporate chains to avoid controversy is to simply ensure that nothing remotely controversial or polarizing ever makes it into an ad or onto a store shelf. Sadly, this overly-cautious tactic backfired spectacularly for supermarket chain Lidl.
READ MORE: Lidl supermarket removes Christian symbol on food packaging, leaving customers cross
In September, Lidl was called out for airbrushing a cross out of a picture. The cross sits atop the famous Anastasis Church in Santorini, Greece. The church was featured on food packaging manufactured by the store, minus its cross.
"As a Greek and a Christian I'm totally disgusted with Lidl as I find this an insult to our faith. I am a member of a Greek group with 8,000 members on Facebook and have notified them about this and told them to share and to let other Greeks and Christians know what you are doing," Facebook user Andrew Kanias wrote after discovering the edit.
Responding to the controversy, Lidl insisted that the company "avoids the use of religious symbols on our packaging to maintain neutrality in all religion. If it has been perceived differently, we apologize to those who may have been shocked."
Amazon shuts the door on 'offensive' Allah doormat
In November 2016, online retailer Amazon removed an "Allah" doormat from its website after a city councilor from Birmingham, UK, reported the product to the company, saying it was deeply offensive to Muslims.
At the time of controversy, an online petition was launched urging a boycott of Amazon. It stated that "Muslims all over the world are mortified by products displayed on the Amazon platform containing the Arabic word for God (Allah) printed on door mats and other products available for sale."
Amazon responded by saying that it "never intended to hurt anyone's religious beliefs," reassuring those who took offense that "all the items related to these doormats will be removed very soon. Amazon wants our customers to experience positive support and feedback."
Label featuring mosque gets German chain in hot water
In January 2015, German supermarket chain Aldi Sud pulled a brand of liquid soap from its shelves after a Muslim shopper complained he was offended by the product's label. Ali Girdapoglu, a Facebook user with a Turkish flag on his avatar, demanded the removal of the product on Aldi's brand page.
"When I saw your product, I was somewhat shocked that a mosque was depicted – as it is a sight that signifies dignity and respect for Muslims. For this reason I view it as inappropriate," wrote Girdapoglu.
The label for the Ombia 1001 Night brand cleanser – produced by Aldi itself – appeared to depict the Hagia Sophia in Constantinople – formerly the largest Orthodox Church in the world until the city was conquered by the Turks in 1453. The Hagia Sophia then served as a mosque, and is currently a museum with no religious function.
Attempts by the chain to apologize for causing unintentional offensive actually backfired, with many customers saying they would not patronize the store after it showed no backbone in the face of such a petty complaint.
You can share this story on social media: