Rebel sell: H&M apologizes for Kurdish female fighter-inspired jumpsuit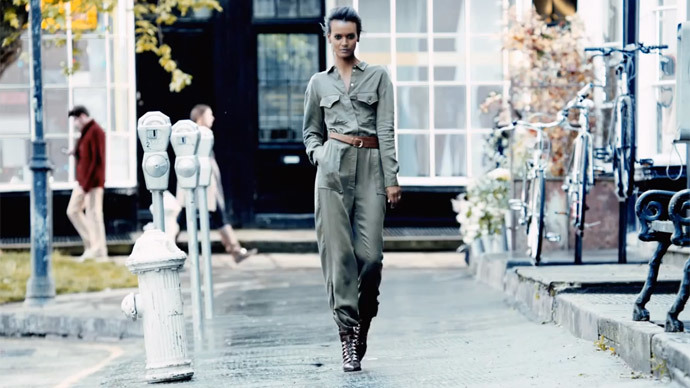 Rebel chic is nothing new, but that hasn't stopped H&M from kowtowing to social media pressure after the retail giant was accused of exploiting the Kurdish female fighter aesthetic in its Autumn/Winter collection.
Going on sale for roughly $24, the loose-fitting, olive green khaki jumpsuit appears cut from military surplus cloth.
Dozens of social media users made a comparison between similarly loose-fitting military attire worn by women serving in Kurdish People's Protection Units (YPG), who have stood shoulder-to-shoulder with Kurdish Peshmerga fighters in a fierce struggle against so-called Islamic State (IS) fighters in Syria and Iraq.
Kristofer Lundberg accused H&M of indirect war profiteering.

"It's terrible that H&M use the ISIS war against Kurds to make money," he wrote on Facebook.
H&M have a Peshmerga inspired jumpsuit. FFS. pic.twitter.com/3JRVnOqEpa

— Miنi (@miniestmini) October 7, 2014
Amir M. Mashour criticized H&M for being shallow, saying the firm should be "inspired by [Kurdish women's] bravery & sacrifices" rather than their clothes."
Once debate ensued on whether H&M should apologize for the alleged faux pas, the Swedish multinational decided to cut the controversy off at the pass, and published an apology.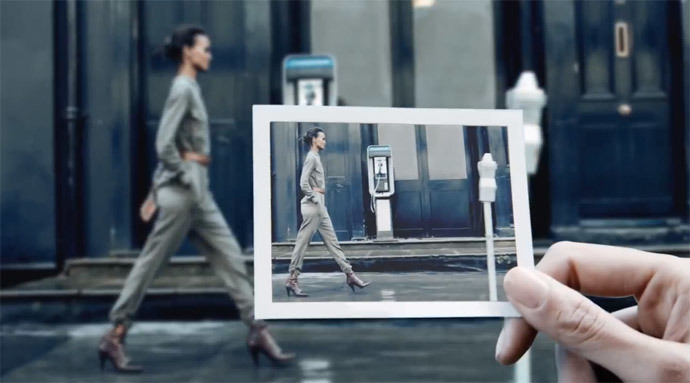 "We are truly sorry if we have offended anyone with this piece, this was of course never our intention," H&M's global press officer, Ida Stahlnacke, said in a statement. "At H&M we want to offer the latest within fashion and trends and we continuously listen to our customers' requests."

Stahlnacke noted that the expansion of the jumpsuit range was due to popular demand, with denim blue and deep red all being rolled out alongside the olive option.
H&M, instead of being inspired by #Kurdish women #Peshmarga's clothes, be inspired by their bravery & sacrifices. #TwitterKurds#stereotypes

— Amir M. Ashour (@AmirLemina) October 6, 2014
She added that khaki green is, incidentally, "one of the trendiest colors this season."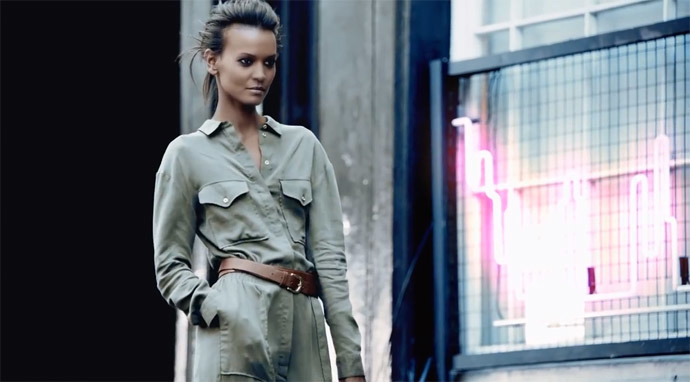 Not everyone, however, has been offended by the resemblance H&M's outfit to Kurdish kit.
Neferpitou, an Iraqi Christian Twitter user, saw the H&M jumpsuit as a way of paying homage to the brave Kurdish fighters.
"You go girls, so proud!" she wrote.
"@K4life_: H&M have been inspired by the Kurdish female fighters. pic.twitter.com/3yLwqB3th9" YOU GO GIRLS SO PROUD

— Neferpitou (@Lizaabuhanna) October 5, 2014
Self-described former diplomat Azos L. Rashad used the H&M controversy to take a swipe at US-led efforts to neutralize IS with airstrikes.
In the last 24 hours H&M have done more for the Kurdish cause with their women's Peshmerga fashion line than all of #NATO put together

— Azos L. Rashid (@AzosLRashid) October 6, 2014
Hedy Brime, meanwhile, joined the social media chorus of those asking H&M to join the pro-Kurdish cause.

"I'm Kurdish and I'm glad to see the Kurdish female fighters outfit on sale. It will introduce our culture to the world, however, I know it's war time for us and I hope some of the money that H&M makes goes to the homeless people of Kurdistan who left their home to seek… safety!" she wrote.

Kurdish female fighters have been lionized in the West, standing out in sharp relief to the medieval attitude towards women demonstrated by Islamic State.
Their penchant for intense resistance, often to the bitter end, has only increased their mystique.
On Sunday, a 19-year-old Kurdish fighter named Ceylan Ozalp found herself surrounded by IS militants in the Syrian Kurdish city of Kobani.
After she run out of ammunition, Ozalp said "Goodbye" over her radio and spent her last bullet on killing herself.
In a related story on Sunday, a female Peshmerga fighter carried out a suicide attack against IS militants in a desperate bit to hold onto the strategically important town.
The most beautiful girl I've ever seen. #CeylanOzalp: the 19 year old Kurdish girl who is fighting #ISIS in #Kobanepic.twitter.com/nkZOVvHFHa

— تمارا Tamara (@_Syriana_) October 5, 2014
In a related story on Sunday, a female Peshmerga fighter carried out a suicide attack against IS militants in a desperate bid to hold onto the strategically important town.
You can share this story on social media: