Chunk of metal falls off Japanese PM's plane (VIDEO)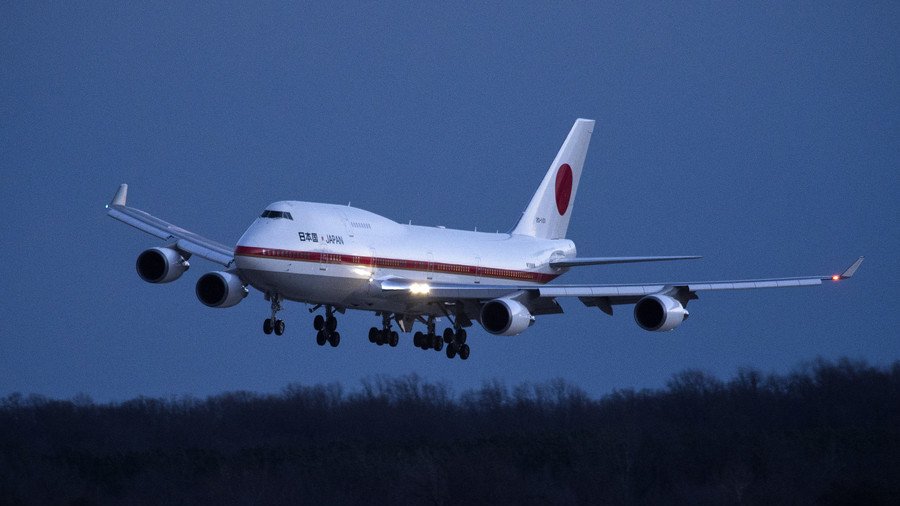 An investigation has been launched after an access panel on the wing of a Boeing 747 used by Japanese Prime Minister Shinzo Abe fell off during flight.
READ MORE: US spy plane circled between Russian airbase & port facility during Syria drone attack – MoD
Japan's Air Self Defense Force (ASDF) confirmed the incident happened during a flight from Tokyo to Hokkaido, Thursday. The part, which is about the size of a laptop computer and provides access to an area connecting the engines to the right wing of the plane, has not yet been found.
"There was no sign of it on the runways so it's going to be very difficult to locate," a spokesman for the ASDF said in a statement, cited by Reuters. ANN News in Japan broadcast images of the plane and its missing part on Thursday.
Two jumbo jets carrying Abe and other government officials set off from Tokyo on Friday ahead of a six-day trip to Eastern Europe. The Japanese PM was reportedly not aboard the plane that lost its panel.
The lost panel follows similar incidents involving US-made aircraft in Okinawa, the southern island prefecture home to several US military bases, in recent weeks.
READ MORE: China alarmed over Japan's alleged plan to put F-35B jets on carriers
On Wednesday, US Defense Secretary James Mattis called his Japanese counterpart, Defense Minister Itsunori Onodera, to personally apologize for a series of blunders beginning last month when the window of a military helicopter fell from its frame during a flight and landed in a school sports field. Around 60 students were playing in the area at the time, according to Japan Times.
"This is a regrettable incident and we apologize for any anxiety it has caused the community," the Marine Corps said in a statement at the time.
On Monday, a US AH1 attack helicopter was forced to make an emergency landing on the premises of a hotel after a warning light indicated a problem with the tail rotor. On the same day, a heavy-lift helicopter was sent to the eastern coast of Ikeijima Island, near Okinawa, to pick up another military helicopter that was disabled on a beach. Questioned about the incidents, Okinawa Governor Takeshi Onaga said the US military should "feel ashamed of their inability to be in control of what they are doing."
You can share this story on social media: