China alarmed over Japan's alleged plan to put F-35B jets on carriers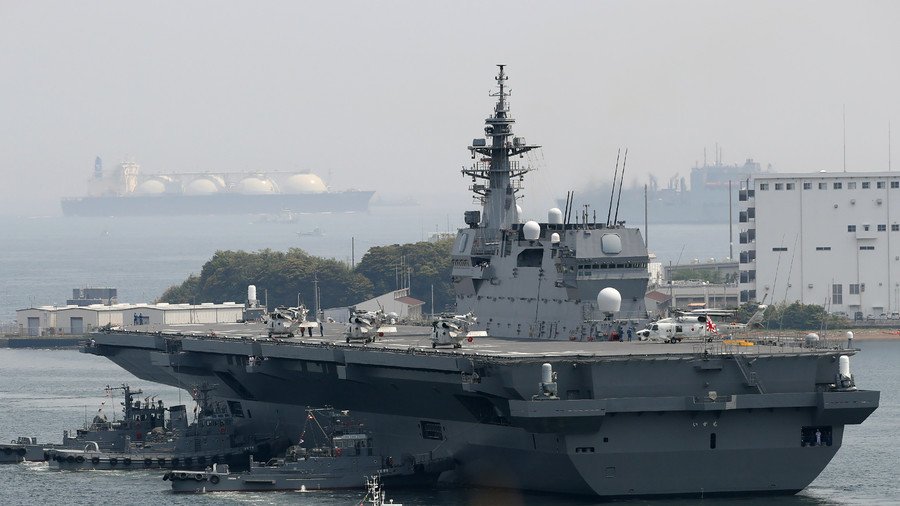 China has warned Japan not to contravene its post-World War II peace commitment and stick to an "exclusive defense" policy, following reports that Tokyo is planning to put F-35B fighter jets on its helicopter carriers.
Tokyo is mulling a major change in its pacifist constitution as it seeks to refit the Izumo-class helicopter carriers into full-fledged aircraft carriers, Japanese media reported earlier this week, citing government sources. The government reportedly wants to buy F-35B stealth fighter jets with vertical takeoff capability from its main ally, the US, and deploy the aircraft to the carriers.
Japanese Defense Minister Itsunori Onodera on Tuesday dismissed the possibility of acquiring F-35Bs as well as remodeling the Izumo-class carriers. However, he did not exclude "considering various alternatives."
READ MORE: Japan approves missile shield expansion with US-made land-based Aegis launchers
Beijing still warned Tokyo against taking such a step, noting Article 9 of the Japanese constitution, which prohibits the country from engaging in outside military action and "anything not in self-defense." The Chinese Foreign Ministry also said that all of Japan's moves in the defense sphere have always drawn scrutiny from neighbors in the region.
"We urge Japan to adhere to the policy of 'exclusive defense,' stay committed to the path of peaceful development, [and] act cautiously in the area of military security," Chinese Foreign Ministry spokesperson Hua Chunying said on Tuesday. She also advised Tokyo to support its previous "force for peace" stance "with concrete policies and actions."
Japan and China are engaged in an ongoing standoff over disputed islands in the East China Sea, which are called the Senkaku Islands in Japan and Diaoyu Islands in China. The report also comes amid the escalation of the Korean crisis as Pyongyang continues its nuclear and ballistic missiles tests.
In May, Japanese Prime Minister Shinzo Abe unveiled a plan to make the first-ever revision to the country's pacifist constitution, seeking to legitimize the existence of Japan's Self-Defense Forces (SDF), while leaving the lines renouncing war. The country's main document, which has been in force since Japan's defeat in World War II, is currently being discussed by the parliament and it is yet unclear when the possible amendments will be finally made.
In December, the Japanese government greenlighted a 1.4 percent increase in military spending, bringing the total military budget to a record 5.13 trillion yen ($43.66 billion) amid concerns over potential threats from China and North Korea.
The move subsequently triggered concern from Beijing, which said that Tokyo is "fabricating, exaggerating, and playing up all kinds of threats it faces." China also demanded that Japan disclose its "real motives."
You can share this story on social media: