Japan may deploy new Marines force alongside Americans amid islands face-off with China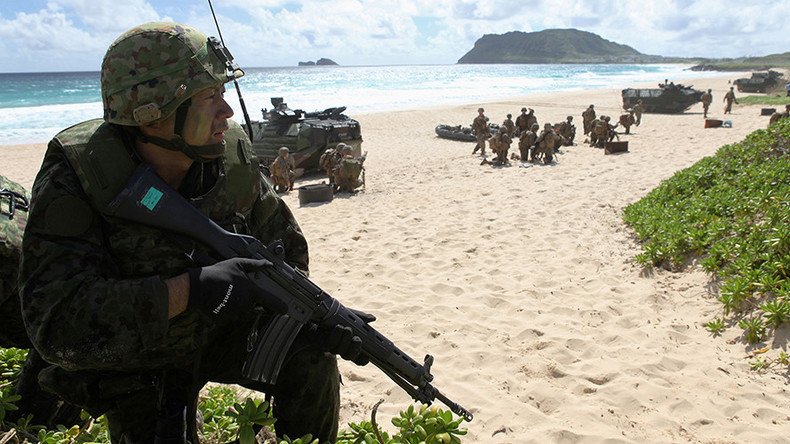 Japan's future amphibious assault force, which is being trained with the help of the US Marine Corps, may be deployed alongside the Americans at an Okinawa base. The force is meant to beef up Japan's capability amid an ongoing stand-off with China over disputed islands.
Tokyo has had no specialized amphibious force since Japan's defeat during World War II, as its pacifist stance left troops trained to storm enemy beaches virtually without purpose. But under the government of Prime Minister Shinzo Abe, the country has been seeking an increasingly engaged military stance and even amended the constitution to allow foreign deployments of its troops to protect an ally. The decision to create a dedicated Marines force is part of the transformation.
The new amphibious assault brigade will be part of the Japan Ground Self-Defense Force (JGSDF), Japan's equivalent for the US Army, and initially have some 2,100 troops, reports The Asahi Shimbun newspaper. Its primary base after the scheduled creation in March 2018 would be Camp Ainoura in Nagasaki Prefecture. But Japanese officials are discussing the possibility that some of the Marines would be stationed at Camp Hansen, the US Marines base in Okinawa Island, the report said.
According to the suggested plan, sometime in the 2020s around 600 Japanese troops would take the space vacated after part of the Americans currently stationed there is relocated to Guam. Placing the Japanese marines in Okinawa would bring them closer to islands in the East China Sea, which are called Senkaku Islands in Japan and Diaoyu Islands in China. The island chain is being contested by the two nations as well as Taiwan and is an obvious potential target for Japan to use an amphibious assault force.
Japan chose Camp Ainoura as the base for the new force in 2015. Earlier in March, the JGSDF announced it was creating a unit, which will train future service members of the amphibious assault brigade.
Japanese troops have been learning tactics from the US Marines for years and have been participating in joint drills on Okinawa since 2012, Stars and Stripes reported in 2014. The Japanese amphibious assault brigade will use some of the same equipment as their American counterpart, like the AAV-P7/A1 landing vehicle.
You can share this story on social media: