'Leader, we're ready!' 10,000s march in Iran in support of govt & Khamenei (PHOTO, VIDEO)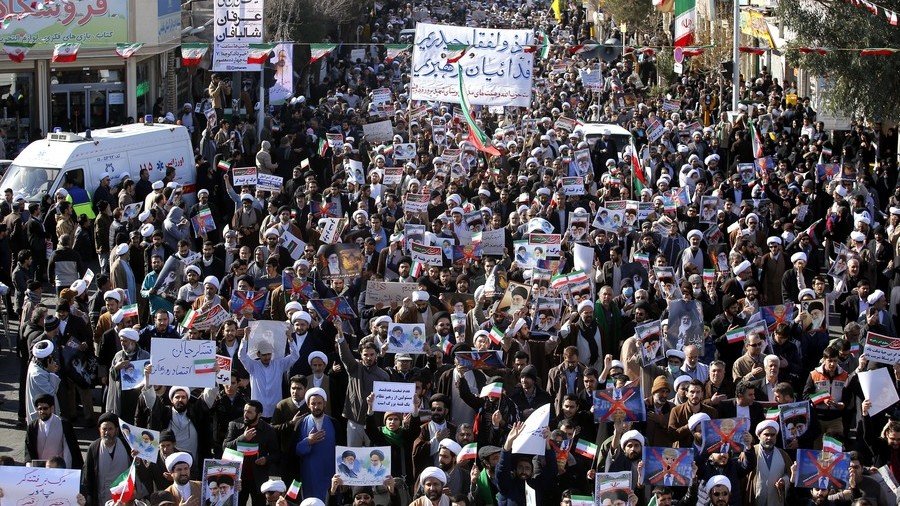 Following days of violent unrest gripping Iran, tens of thousands of people flocked to streets in the country's major cities in a massive show of support for the government and the Supreme Leader, Ayatollah Khamenei.
Massive pro-government rallies kicked off on Wednesday in different towns and cities, including Ahvaz, Kermanshah, Bushehr, Abadan, Gorgan and Qom, local media reported.
Chants of "Leader, we are ready!" and "We offer the blood in our veins to our Leader" were heard as images provided by state media showed thousands-strong crowds waving Iranian flags and a holding placards that read "Death to seditionists."
Demonstrators then shouted anti-American and anti-Israeli slogans which Iranian media said "welcomed the turmoil and voiced support for the riots."
The pro-government rallies come as Iran's Interior Ministry said on Tuesday that the situation in most parts of the country has returned to normal, and that it estimates the unrest will soon come to an end.
Iran's Supreme Leader, Ayatollah Ali Khamenei on Tuesday said violent protests gripping the country were sparked by "enemies of Iran" using "money, weapons, politics and security apparatus."
Khamenei's words were echoed by other top Iranian officials, including President Hassan Rouhani who suggested on Monday that Saudi involvement had played a role in sparking the protests. "They [the Saudis] have blatantly said that we will create problems in Tehran," he said.
He also vowed that his government will redouble efforts to improve the country's economic situation, while decreasing unemployment, air pollution and inflation, FARS news agency reported. Earlier, Rouhani admitted people have right to voice protest over rising food prices and economic hardships, but not in a way that endangers public safety.
Amid anti-government protests that snowball across the country, some world leaders encouraged the rioting. In his first series of tweets in 2018, US President Donald Trump maintained the Iranians, having "little food, big inflation and no human rights," are acting "against the brutal and corrupt Iranian regime."
In a previous tweet, Trump claimed Iran "is failing at every level despite the terrible [2015 nuclear] deal made with them by the Obama Administration." He added: "The great Iranian people have been repressed for many years. They are hungry for food and for freedom."
In response, Iranian Foreign Ministry spokesman Bahram Ghasemi urged Trump to stop "wasting his time on posting useless and insulting tweets about other nations" and called the American president to tackle gun violence, poverty and hunger in his own country.
Israel's Prime Minister Benjamin Netanyahu also spewed vitriol against Iran, saying in a video message: "When this regime [the Iranian government] finally falls, and one day it will, Iranians and Israelis will be great friends once again."
In the 90-second-long video Netanyahu praised the protesters who have rallied since Thursday, saying that they "seek freedom and justice." He then dismissed the accusation that Israel was involved into stirring Iranian protests, calling this "false" and "laughable."
READ MORE: McFaul denies endorsing call to kill Russian intel officers, apologizes for reposting fake video
You can share this story on social media: