Badass biker Santa chases hit-and-run driver through Paris (VIDEO)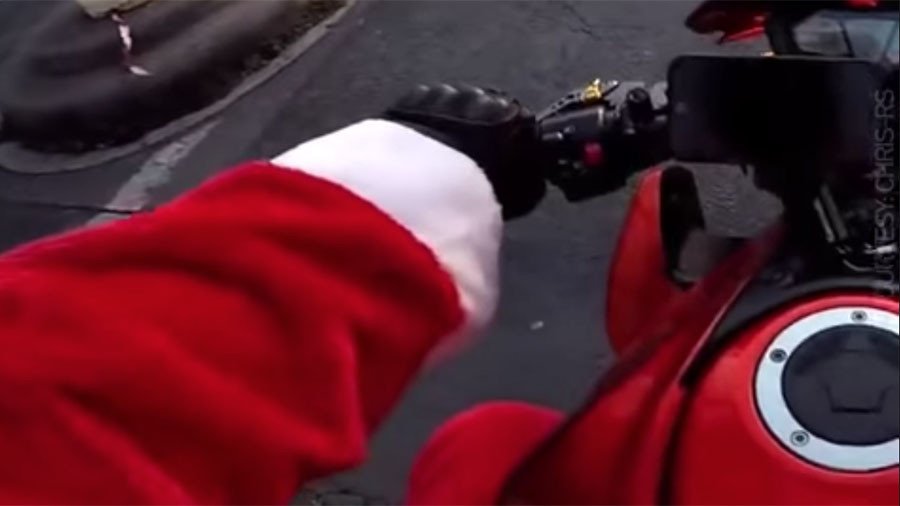 One motorist definitely being added to the naughty list this Christmas was caught by a motorcyclist dressed as Santa, after the festive-clad biker witnessed a driver engage in a hit-and-run incident in the center of Paris.
Filmed by Youtuber and motorbike enthusiast Chris RS, the incident saw a female driver knock down a pedestrian on Rue de Rivoli before fleeing the scene.
Fortunately, Chris RS caught the moment of the collision on his motorcycle helmet cam. He just happened to be riding around the city dressed as Father Christmas at the time of the incident.
READ MORE: 'F**k me, it's gone down!' Passenger plane plunges into Russia's Lake Baikal (VIDEO)
Footage of the intense aftermath of the collision shows the white-bearded biker chasing down the offending motorist as she tries to escape in a black Renault vehicle.
Following futile attempts to pull the offending motorist over, the biker Santa eventually grabbed the attention of nearby police.
READ MORE: Heavy snowfall causes hundreds of car accidents in Russia's Far East (PHOTOS, VIDEO)
"It was a good day, I put on my Santa costume for a new video. People were happy to see me dressed like that and say hello," the Youtube vlogger said online. "It is Place Vendome that this dramatic scene arrives… I had to try stop this person."
The biker has since posted an update to say the pedestrian victim of the collision is recovering well. Chris RS previously helped stop another hit-and-run driver in October.
You can share this story on social media: